Abstract: LB598Type:
Poster Presentation
Presentation during EHA20:
From 13.06.2015 17:15 to 13.06.2015 18:45
Location:
Poster area (Hall C)
Background
IDELA is a selective oral PI3Kδ inhibitor approved in combination with rituximab for previously treated patients with CLL.
Aims
This open-label study (NCT01659021) compared the safety and efficacy of IDELA plus OFA vs. OFA in patients with relapsed or refractory CLL.
Methods
Patients with CLL progressing ≤ 24 months from last therapy, and who had received ≥ 2 cycles of a purine analogue or bendamustine, were randomized 2:1 to either Arm A (IDELA 150 mg BID continuously plus OFA, 300 mg IV week 1, then 1 gm IV weekly x 7 and q 4 week x 4) or Arm B (OFA, same as Arm A except 2 gm was substituted for 1 gm dosing). Stratification was performed for relapsed vs. refractory, del17p and/or TP53 mutation, and
IGHV
mutation. Response and progression were assessed by an independent review committee (IRC) based on clinical data and imaging using modified IWCLL 2008 criteria. The primary endpoint was PFS and alpha-protected secondary endpoints were confirmed ORR, lymph node response (LNR), OS, PFS in patients with del17p and/or TP53 mutation, and CR rate. Results are from the final analysis of the primary endpoint.
Results
Patient characteristics were balanced in the 2 arms: median age 68; Rai II/III/IV 18/13/51%, median number of prior regimens 3, refractory disease 49%, del17p/TP53 mut 40%,
IGHV
unmut 78%. The median exposure to IDELA was 12.3 months (range: 0.2-23.9). Disposition and efficacy are shown in the Table. There was a disproportionate dropout rate with an excess of Arm B patients discontinuing prior to PD or death. Efficacy results, demonstrating superiority of the combination, were consistent across risk groups. The median duration of response was 14.9 months and 6.7 months in Arm A and B patients, respectively. The most frequent non-haematologic Gr ≥ 3 AEs in Arm A patients were diarrhea/colitis (20.2%), pneumonia (12.7%), and febrile neutropenia (11.6%). Grade 3/4 ALT/AST elevation occurred in 12.9% of Arm A patients. Infusion-related reactions of any Grade/Gr ≥ 3 were reported in 16.8%/ 2.3% and 26.7%/1.2% of patients in Arms A and B, respectively. Deaths in Arm A occurred in 16.8% of patients on-study (until 30 days post-discontinuation) and 6.9% off-study; and in Arm B in 9.3% of patients on-study and 16.3% off-study. TEAEs leading to death were reported in 10.4% (exposure-adjusted rate = 0.10/yr) and 7.0% (exposure-adjusted rate = 0.18/yr) of patients in Arms A and B, respectively.
Summary
IDELA plus OFA yielded superior PFS, ORR, and LNR compared to OFA in patients with previously treated CLL, including within high-risk subgroups. Safety was manageable with a profile similar to that previously observed with IDELA in CLL trials.
Keyword(s):
CD20, Clinical trial, PI3K, Targeted therapy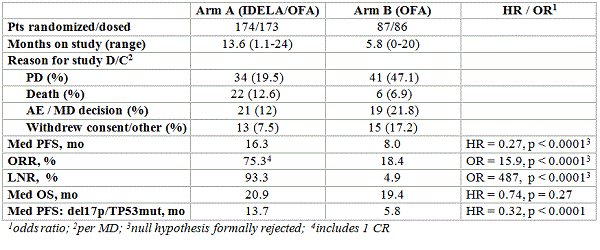 Session topic:
Chronic lymphocytic leukemia - Clinical 2