Abstract: P728Type:
Poster Presentation
Presentation during EHA20:
From 13.06.2015 17:15 to 13.06.2015 18:45
Location:
Poster area (Hall C)
Background
The Bruton Tyrosine Kinase (BTK) inhibitor Ibrutinib displays considerable activity in mantle cell lymphoma (MCL), yet approximately 30% of patients do not respond and among responders only one third experience complete remission (CR). Furthermore, the therapy invariably leads to drug resistance and a median response of 17.5 months (Wang ML, NEJM, 2013). Infusion of autologous T cells transduced with chimeric antigen receptors (CAR) against the B-cell specific CD19 antigen (CART19 or CTL019) leads to dramatic clinical responses in the majority of patients with acute lymphoblastic leukemia and chronic lymphocytic leukemia (Maude SA, NEJM, 2014; Porter D, NEJM, 2011). The role of CTL019 in MCL, where bulky disease may impair T cell infiltration, has not yet been established. Ibrutinib has shown particular efficacy in reducing tumor masses while mobilizing neoplastic B cells into the peripheral blood.
Aims
We sought to investigate the combination of two novel potent approaches, ibrutinib and CTL019, for treatment of MCL.
Methods
MCL cell lines were obtained from ATCC (Mino, Jeko-1, SP-49) while MCL-RL was generated in our laboratory from a pleural effusion of a MCL patient. CTL019 were produced as previously described by lentiviral transduction of healthy donor T cells using an anti-CD19-CD3zeta-41-BB construct (Milone M, Mol. Ther., 2009). For in vivo experiments, ibrutinib was dissolved in HP-beta-cyclodextrin/H20 and administered in the drinking water to mice with established disease, usually from 7 days after tumor injection until the end of the experiment.
Results
In vitro studies with established MCL-derived cell lines and MCL-RL show a variable response to ibrutinib with an IC50 ranging from 10 nM to 10 µM as determined in the MTT conversion assay. MCL-RL was the most sensitive cell line with an IC50 of 10nM, similar to primary MCL. These different cell lines could therefore be used to model both ibrutinib-sensitive and ibrutinib-resistant MCL. Both ibrutinib-sensitive and ibrutinib-resistant cell lines, but not the CD19-negative control MOLM14 cell line, when exposed to allogeneic CTL019 strongly activated the T cells as detected by CD107a degranulation, cytokine production and CFSE proliferation assays. In vitro assays with MCL cell lines and different doses of CTL019 with increasing concentration of ibrutinib demonstrated an additive tumor killing with the combination CTL019 and ibrutinib. However, supra-physiologic doses of Ibrutinib (>/=1 uM) impaired cytokine production and T cell proliferation in vitro; these concentrations of ibrutinib are not typically reached in the clinical setting. In order to confirm these results in vivo we established a novel MCL model, using the MCL-RL cell line. Intravenous injection of MCL-RL cell line transfected with the GFP/luciferase gene into immunodeficient NOD/SCID-gamma chain knockout (NSG) mice resulted in 100% MCL engraftment in liver and spleen, with eventual dissemination into lymph nodes and bone marrow. Treatment with three different doses of allogeneic CTL019 (0.5, 1 and 2 million/mouse) led to a dose dependent anti-tumor effect. A similar dose response to CTL019 was also observed in the ibrutinib resistant Jeko-1 cell line. We treated MCL-RL xenografts in vivo with different doses (0, 25 and 125 mg/Kg/day) of ibrutinib, with a median overall survival respectively of 70, 81 and 100 days (p<0.001). Importantly, a direct in vivo comparison of the highest ibrutinib dose (125 mg/kg) and CTL019 showed a significantly improved tumor control for mice treated with CTL019. MCL-RL xenografts were treated with vehicle, ibrutinib, CTL019 or the combination of CTL019 and ibrutinib. The combination resulted in an improved tumor control with 80% of mice achieving long-term disease-free survival (Fig 1 A). In addition, we found that mice treated with ibrutinib had higher numbers of circulating CTL019 cells (Fig 1 B).
Summary
This preclinical model demonstrates for the first time that a small molecule inhibitor of B cell receptor signaling (ibrutinib) can be combined with CTL019 in a rational manner that augments the anti-tumor effect and leads to enhanced survival.
Keyword(s):
Adoptive immunotherapy, CD19, Mantle cell lymphoma, Tyrosine kinase inhibitor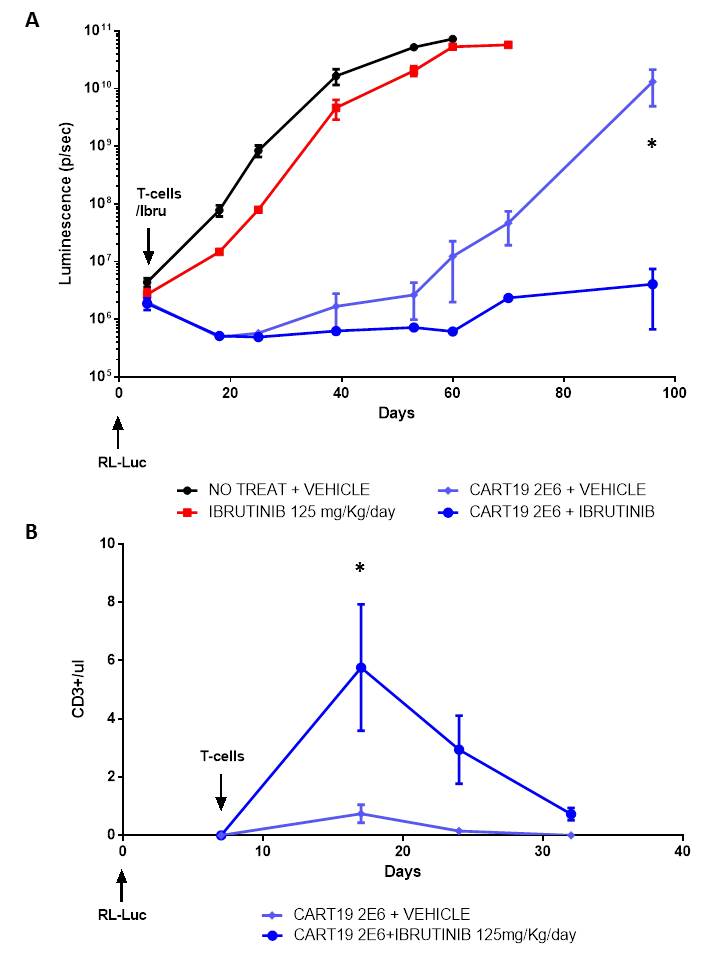 Session topic:
Gene therapy, cellular immunotherapy and vaccination