Abstract: P618Type:
Poster Presentation
Presentation during EHA20:
From 13.06.2015 17:15 to 13.06.2015 18:45
Location:
Poster area (Hall C)
Background
CC-486 has clinical activity in patients (pts) with IPSS-defined lower-risk MDS (Garcia-Manero, ASH 2010, 2012). This ad hoc analysis assessed CC-486 efficacy in a small group of pts with HR-MDS (IPSS Intermediate [INT]-2 or High-risk) from 2 phase I/II studies. While all pts had HR-MDS, CC-486 dosing schedules in these studies varied between administration for 7 days (d) per 28d cycle and extended administration (CC-486 x14 or x21d/28d cycle); prognostic disease variables at baseline differed; and, at study entry, some pts were MDS Tx-naïve while others had progressive disease despite prior Tx.
Aims
To explore whether differences in dosing schedules, prognostic disease features, and receipt of prior MDS Tx influenced overall response rate (ORR) with CC-486 in pts with HR-MDS.
Methods
Pts received CC-486 120mg to 600mg QD x7d/28d cycle (7D cohort) or in an extended dosing schedule (ED cohort): 300mg QD x21d/28d (21D); 300mg QD x14d/28d (QD-14D); or 200mg BID x14d/28d (BID-14D). Dosing schedules in the ED cohort were analyzed collectively. Prognostic Risk Index scores for this
ad hoc
analysis were calculated as 1 point each for the following abnormalities at baseline: Hgb <11 g/dL, ANC <1.0x10
9
/L, platelets <100x10
9
/L, BM blasts ≥5%, and transfusion of ≥4 RBC units or ≥2 platelet units in the 56 days before study entry. ORR (IWG 2006) included complete or partial remission, RBC or platelet transfusion independence, and any hematologic improvement. ORR was evaluated based on dosing cohort (7D or ED), prior MDS Tx (yes/no), and prognostic Risk Index scores (≤3/>3 abnormalities).
Results
In all, 13 pts (50%) comprised the 7D cohort and 13 (50%) comprised the ED cohort (21D n=11, QD-14D n=1, BID-14D n=1). At baseline, most pts had IPSS INT-2 MDS (n=24, 92%), were male (n=19, 73%), and had ECOG PS of 0-1 (n=22, 85%). Pt diagnoses were RAEB-1 (n=11, 42%), RAEB-2 (n=11, 42%), RCMD (n=3, 12%), and RA (n=1, 4%). Overall, 11 pts (42%) had received prior MDS Tx (ESAs, growth factors, thalidomide, lenalidomide, and/or hypomethylating agents [HMAs, n=7]). Median ages in the 7D and ED groups were 69 (range 31-91) and 75 (47-87) years, respectively. Median time since diagnosis was 3.9 months (range 0.7-40) in the 7D group and 5.3 months (0.4-119) in the ED group. Median Hgb, ANC, and platelet counts in the 7D group were 9.1 g/dL, 0.6x10
9
/L, and 54x10
9
/L, respectively, and in the ED group were 9.0 g/dL, 0.4x10
9
/L, and 19x10
9
/L. Most pts (n=17, 65%) had prognostic Risk Index scores >3. One pt (7D cohort) was not evaluable for response (no post-baseline data). ORR for all pts was 56% (14/25) (
Figure
), including 5/8 pts with poor-risk cytogenetics. ORR in the 7D and ED cohorts were 46% (6/13) and 67% (8/12), respectively. ORR in pts who had received prior MDS Tx was 40% (4/10, including 2/7 pts who had received prior HMA Tx and responded to CC-486) and in pts who had no prior MDS Tx was 67% (10/15). ORR in pts with prognostic Risk Index scores ≤3 and >3 were 50% (4/8) and 59% (10/17), respectively.
Summary
More than one-half of these pts with HR-MDS attained a hematologic response with CC-486. In this small patient group, prolonged exposure to CC-486 resulted in a higher proportion of response. Absence of prior MDS therapy was associated with better response, though prior HMA Tx did not preclude response to CC-486. Baseline prognostic Risk Index score did not influence ORR, suggesting that underlying molecular pathways or genetic factors may have a greater influence on Tx response. 
Keyword(s):
High risk, MDS, Oral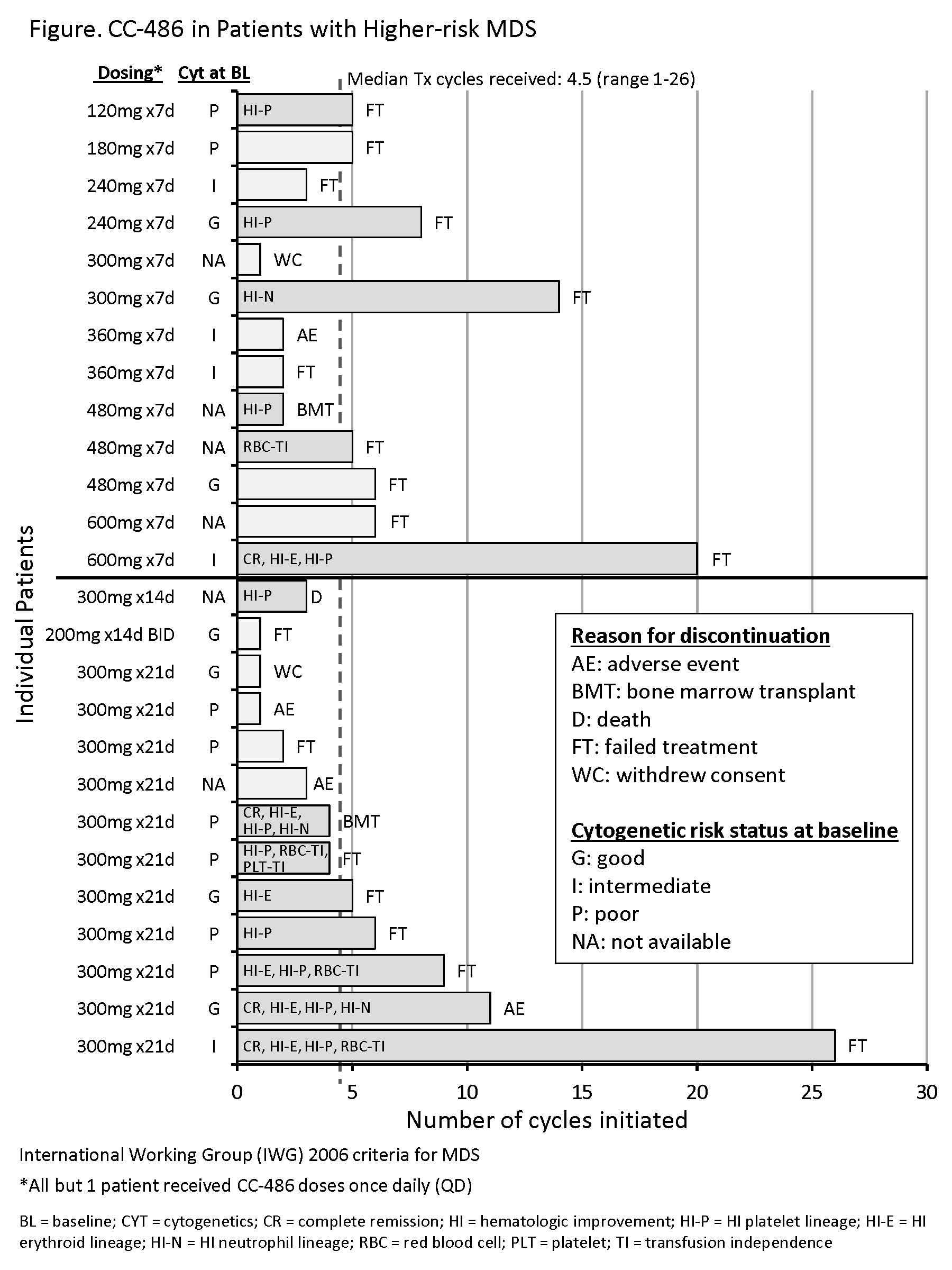 Session topic:
Myelodysplastic syndromes - Clinical 2