Abstract: P575Type:
Poster Presentation
Presentation during EHA20:
From 13.06.2015 17:15 to 13.06.2015 18:45
Location:
Poster area (Hall C)
Background
The international phase 3 AZA-AML-001 study compared treatment (Tx) effects of AZA vs CCR on OS in older patients (pts) with AML; AZA prolonged median OS by ~4 months (10.4 vs 6.5 months, overall p=0.10) (Dombret,
Haematologica
, 2014:LB2433). AZA is known to improve OS vs CCR in pts with higher-risk myelodysplastic syndromes (HR-MDS) who have not achieved CR during Tx (Gore,
Haematologica
, 2013). MDS and AML are biologically and clinically distinct; it is unknown whether OS benefits in the absence of CR shown for AZA in HR-MDS extend to AML.
Aims
This
post hoc
exploratory analysis examined Tx effects on OS in subgroups of pts in AZA-AML-001 who did not attain CR on-study.
Methods
Eligible pts were aged ≥65 years with newly diagnosed AML with >30% bone marrow blasts, and with ECOG PS of 0-2, WBC count ≤15x10
9
/L, and intermediate- or poor-risk cytogenetics. Before randomization, pts were preselected to receive 1 of 3 commonly used CCR per investigator choice of most appropriate Tx: intensive chemotherapy (IC; cytarabine IV x7days (d) + an anthracycline IV x3d, with ≤2 subsequent cycles), low-dose cytarabine (LDAC; 20mg SC BID x10d/28d cycle), or best supportive care only. Pts were then randomized to AZA (75 mg/m
2
/d SC x7d/28d cycle), or to CCR and received their preselected Tx. CR (IWG 2003) was adjudicated centrally by an Independent Review Committee blinded to Tx assignment. Median OS and 1-year survival were estimated using Kaplan-Meier methods. OS was compared between AZA and CCR groups by log-rank test stratified by ECOG PS and cytogenetic risk. OS was compared between AZA and LDAC and AZA and IC within preselection groups by unstratified log-rank test. Hazard ratios (HR) and 95% CIs are from a stratified Cox proportional hazards model. Results should be interpreted cautiously, as OS comparisons of pt subgroups defined by post-randomization outcomes may be biased. The current analysis did not control for time-dependency of response or interactions between Tx and response that could influence OS.
Results
Of all pts in AZA-AML-001 (AZA n=241, CCR n=247), 47 (19.5%) in the AZA arm and 54 (21.9%) in the CCR arm attained CR and were excluded from these analyses. Median OS in the remaining pts in the AZA vs CCR groups was 6.9 (95%CI: 5.1, 8.9) vs 4.2 (95%CI 3.2, 5.1) months, reflecting a 23% reduced risk of death with AZA; HR=0.77 (95%CI 0.62, 0.95), p=0.0171 (
Figure
). Estimated 1-year survival was 33.8% with AZA and 20.4% with CCR (difference 13.4% [95%CI 4.5%, 22.4%]). For pts with no CR who were preselected to receive LDAC, median OS with AZA (n=126) vs LDAC (n=120) was 8.1 vs 4.2 months, respectively (HR=0.75 [95%CI 0.57, 0.99], p=0.0390), and 1-year survival was 36.8% vs 16.4% (difference 20.4% [95%CI 9.4%, 31.3%]). For pts with no CR who were preselected to receive IC, median OS with AZA (n=30) vs IC (n=28) was 8.0 vs 7.5 months, respectively (HR=0.81 [95%CI 0.46, 1.44], p=0.4765), with 1-year survival of 40.0% vs 40.2%.
Summary
The relative benefit on OS seen with AZA vs CCR for all pts in AZA-AML-001 was maintained in pts who did not attain CR on-study. Similarly, median OS with AZA was almost twice that with LDAC in pts preselected to receive LDAC who did not achieve CR. Clinically meaningful improvements in 1-year survival rates with AZA vs CCR (13.4%) and with AZA vs LDAC (20.4%) in this analysis are similar to those reported for all AZA-AML-001 pts (12% and 15%, respectively; Dombret,
Haematologica
, 2014). These findings suggest that CR is not necessary to gain a survival benefit with AZA vs other commonly used Tx for older pts with AML.
Keyword(s):
Acute myeloid leukemia, Survival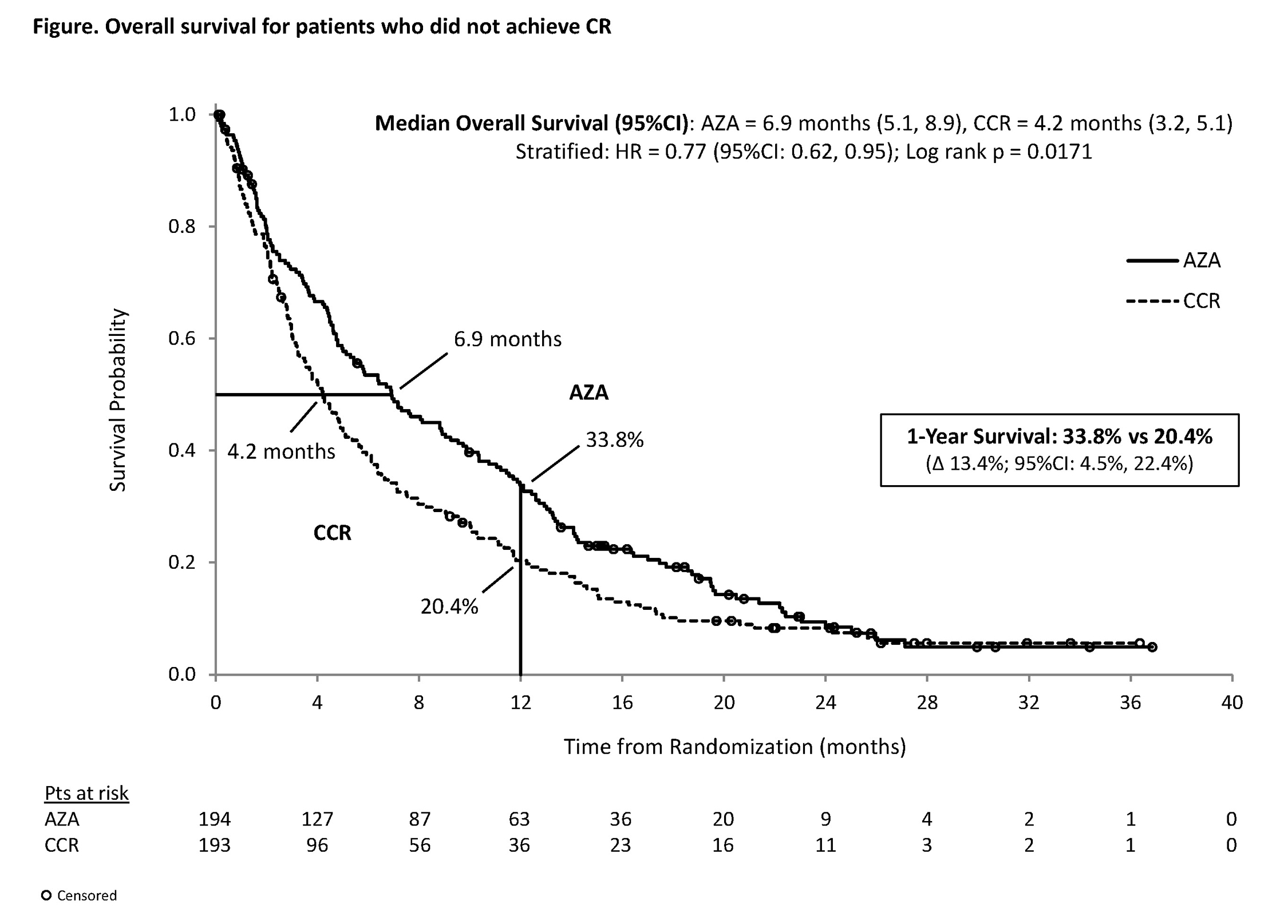 Session topic:
Acute myeloid leukemia - Clinical 4