Abstract: P274Type:
Poster Presentation
Presentation during EHA20:
From 12.06.2015 17:15 to 12.06.2015 18:45
Location:
Poster area (Hall C)
Background
Renal impairment (RI) is reported in ≈ 20% to 40% of patients (pts) with multiple myeloma (MM) at diagnosis and is associated with a negative impact on survival (Rajkumar,
Mayo Clin Proc,
2005). The pivotal phase 3 FIRST trial represents the largest data set in transplant-ineligible newly diagnosed MM (NDMM) pts with various levels of RI. In this pt population, continuous lenalidomide plus low-dose dexamethasone (Rd continuous) improved progression-free survival (PFS; HR = 0.72;
P
< 0.01) and provided an overall survival (OS) benefit (HR = 0.78;
P
= 0.02) vs melphalan-prednisone-thalidomide (MPT; Benboubker,
N Engl J Med,
2014).
Aims
This subanalysis was conducted to determine the impact of RI on PFS, OS, and time to second anti-myeloma Tx (AMT) in NDMM pts treated with Rd continuous or MPT.
Methods
NDMM pts ineligible for transplant were randomized to 3 Tx arms: Rd continuous until progression (n = 535); Rd for 18 cycles (Rd18; 72 weeks; n = 541); or MPT for 12 cycles (72 weeks; n = 547). Enrolled pts were categorized according to their renal function; pts requiring dialysis were excluded. The starting dose of lenalidomide was modified based on renal function: 25 mg once daily (QD) for normal renal function (creatinine clearance [CrCl] ≥ 80 mL/min) or mild RI (CrCl ≥ 50 and < 80 mL/min), 10 mg QD for moderate RI (CrCl ≥ 30 and < 50 mL/min), and 15 mg QD for severe RI (CrCl < 30 mL/min). The melphalan dose was reduced by 50% in pts with moderate or severe RI. The primary endpoint was PFS in pts treated with Rd continuous vs MPT. Secondary endpoints included OS, time to second AMT, safety, and improvement in renal function. Improvement in renal function was defined as a positive shift in renal function subgroup from baseline to the most extreme post-baseline CrCl value during active Tx. Renal response as defined by IMWG criteria (Dimopoulos,
J Clin Oncol
, 2010) was also assessed to show similar results across both CrCl and estimated glomerular filtration rate (eGFR).
Results
The median follow-up was 37 mos (data cutoff, May 24, 2013). PFS benefit was seen with Rd continuous vs MPT (HR = 0.66-0.76) or Rd18 (HR = 0.66-0.82) in all RI groups. OS results showed a benefit of Rd continuous vs MPT (HR = 0.59-0.81) or Rd18 (HR = 0.74-0.88) in all groups except severe RI (HR = 1.03 vs MPT and 1.31 vs Rd18). Rd continuous compared with MPT extended time to second AMT in all renal groups (HR = 0.54-0.83). Improvement in renal function was observed across all Tx groups, but appeared greater in pts treated with Rd continuous than those treated with Rd18 or MPT. Per IMWG criteria 24%, 28%, and 20% of pts had a renal response with Rd continuous, Rd18, and MPT Tx, respectively. Rate of complete renal response was 20.0% with Rd continuous, 27.4% with Rd18, and 14.3% with MPT. Most common grade 3/4 adverse events for these Tx were anemia, neutropenia, and thrombocytopenia.
Summary
PFS, interim OS, and time to second AMT outcomes generally improved across all Tx groups in pts with normal renal function and those with mild or moderate RI. Rd continuous was well tolerated, with a consistent safety profile across renal subgroups. Renal function also improved more in pts treated with Rd continuous vs Rd18 or MPT. Results of this analysis support the use of Rd in NDMM pts in most RI subgroups.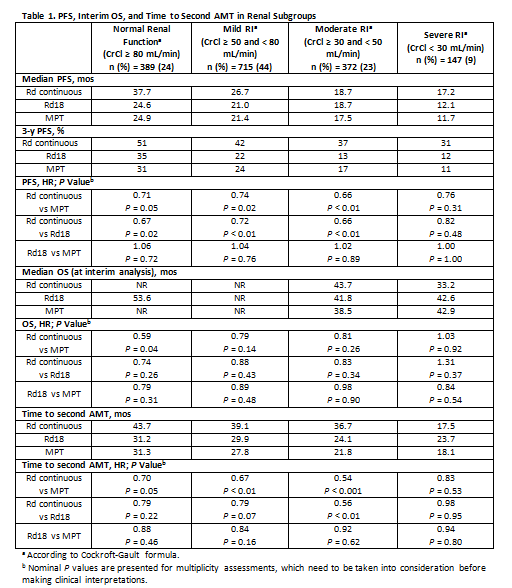 Session topic:
Multiple myeloma - Clinical 1