Abstract: P214Type:
Poster Presentation
Presentation during EHA20:
From 12.06.2015 17:15 to 12.06.2015 18:45
Location:
Poster area (Hall C)
Background
Patients with chronic lymphocytic leukaemia (CLL) experience disease-related symptoms including fatigue, dyspnea, abdominal pain, weight loss, lymphadenopathy and sleep disturbances. Robust data on health-related quality of life (HRQL) in the form of utility scores for CLL patients are, however, scarce. Longitudinal EQ-5D data were collected in a phase III randomized controlled trial of idelalisib with rituximab versus rituximab monotherapy for patients with previously treated CLL unsuited to cytotoxic therapy (Study 116, ClinicalTrials.gov Identifier:
NCT01539512). These data can provide further insight into the health-related quality of life (HRQL) of CLL patients.
Aims
This study aims to analyse longitudinal EQ-5D data from Study 116 to better understand the HRQL of previously treated patients receiving further treatment for CLL, and more specifically to gain insight on the HRQL profile associated with idelalisib with rituximab for previously treated CLL.
Methods
EQ-5D questionnaires were administered in Study 116 at baseline and at regular intervals: Weeks 2, 4, 6, 8, 12, 16, 20, 24, 30, 36, 42, 48, every 12 weeks thereafter prior to disease progression, and at the end of treatment.

A generalised estimation equation (GEE) regression was carried out to determine absolute HRQL scores across treatment arms and whether there was a difference in quality of life between idelalisib with rituximab and rituximab monotherapy while patients were receiving treatment. GEE regression was used as this method accounts for potential autocorrelation of patient quality of life scores.
Results
Compliance rates for EQ-5D completion were good (>70%) across all time points and in total there were 1,667 observations over both treatments arms.

Table 1 shows estimated mean HRQL estimates for patients receiving treatment in Study 116, across treatment arms. Estimated utility was high across treatment arms, and a significant treatment effect was found (p=0.031), with patients receiving idelalisib with rituximab having a better quality of life than those receiving rituximab monotherapy (absolute difference of 0.0652).
Summary
The tolerability and efficacy profile of idelalisib with rituximab may provide previously treated CLL patients with high quality of life, both in absolute terms and in relation to treatment with rituximab monotherapy.
Keyword(s):
Quality of life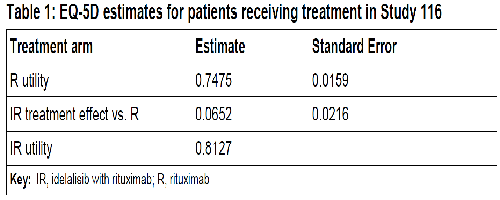 Session topic:
Chronic lymphocytic leukemia - Clinical 1