Abstract: P184Type:
Poster Presentation
Presentation during EHA20:
From 12.06.2015 17:15 to 12.06.2015 18:45
Location:
Poster area (Hall C)
Background
Older patients (pts) with AML generally have a poor prognosis. While treatment (Tx) may extend overall survival (OS) for pts with AML, it may also cause significant toxicity and impairment of HRQL (Cheng,
Leukemia
, 2014). In the large, international, phase 3 AZA-AML-001 study, median OS for older pts with AML treated with azacitidine (AZA) was 10.4 months vs. 6.5 months for pts who received conventional care regimens (CCR; HR=0.85; p=0.1009) (Dombret, EHA, 2014). HRQL was a prespecified secondary endpoint of the study.
Aims
To evaluate changes in HRQL during Tx among pts in AZA-AML-001.
Methods
Pts were aged ≥65 years with newly diagnosed de novo or secondary AML (>30% bone marrow blasts). Before randomization, pts were preselected to receive 1 of 3 CCR per investigator choice: induction chemotherapy, low-dose cytarabine (LDC), or best supportive care only. Pts were then randomized to AZA or CCR, in which case, they received their preselected Tx. Most pts (n=312, 64%) were preselected to receive LDC. HRQL was assessed by EORTC QLQ-C30 questionnaire at baseline, day 1 of every other Tx cycle, and at the end-of-study visit, which occurred at different time points for individual pts. Analyses included only pts who completed the baseline and at least 1 post-baseline HRQL assessment. An HRQL-specific statistical analysis plan (SAP) was finalized before database lock. HRQL changes were evaluated prospectively for the AZA and CCR cohorts, and post hoc for the pt subgroup preselected to LDC who received AZA or LDC. Four of the 15 QLQ-30 domains were prespecified in the SAP as most relevant: Fatigue (primary), Global Health Status/QoL, Physical Functioning, and Dyspnea (secondary). HRQL was evaluated through cycle 9 (~32 to 34 weeks) due to subsequent small cohort sizes. A prespecified 10-point minimally important difference (MID) threshold represents meaningful change.
Results
Rates of HRQL assessment compliance were fairly high overall (>77% both Tx groups) except at the end-of-study visit (AZA=42%, CCR=37%). Overall, 157 AZA pts and 134 CCR pts were evaluable for HRQL (the AZA-AML-001 ITT population included 488 pts, AZA N=241, CCR N=247). The rate of attrition of evaluable pts during early Tx was higher in the CCR arm than in the AZA arm. During Tx, mean change from baseline scores with AZA or CCR showed general improvement in the 4 relevant domains (
Figure
). Few changes were statistically significant (p<0.05) and fewer met the MID threshold. Pts receiving CCR achieved meaningful improvement in Fatigue (cycles 7, 9) and Global Health Status/QoL (cycle 9). No HRQL detriment was seen with AZA or CCR during Tx. Notably, scores varied substantially among individual pts in both Tx groups. Within the LDC preselection group, HRQL outcomes with AZA and LDC were largely consistent with the primary HRQL analysis (
Figure
). Pts receiving AZA achieved meaningful improvement in Fatigue (cycle 9).
Summary
During Tx, AZA and CCR were associated with general improvement in HRQL in the 4 relevant domains, but improvements were not consistently meaningful. Importantly, for these 4 domains, there was no meaningful HRQL deterioration at the group level during Tx. Results were largely similar for AZA vs LDC.
Keyword(s):
Acute myeloid leukemia, Fatigue, Quality of life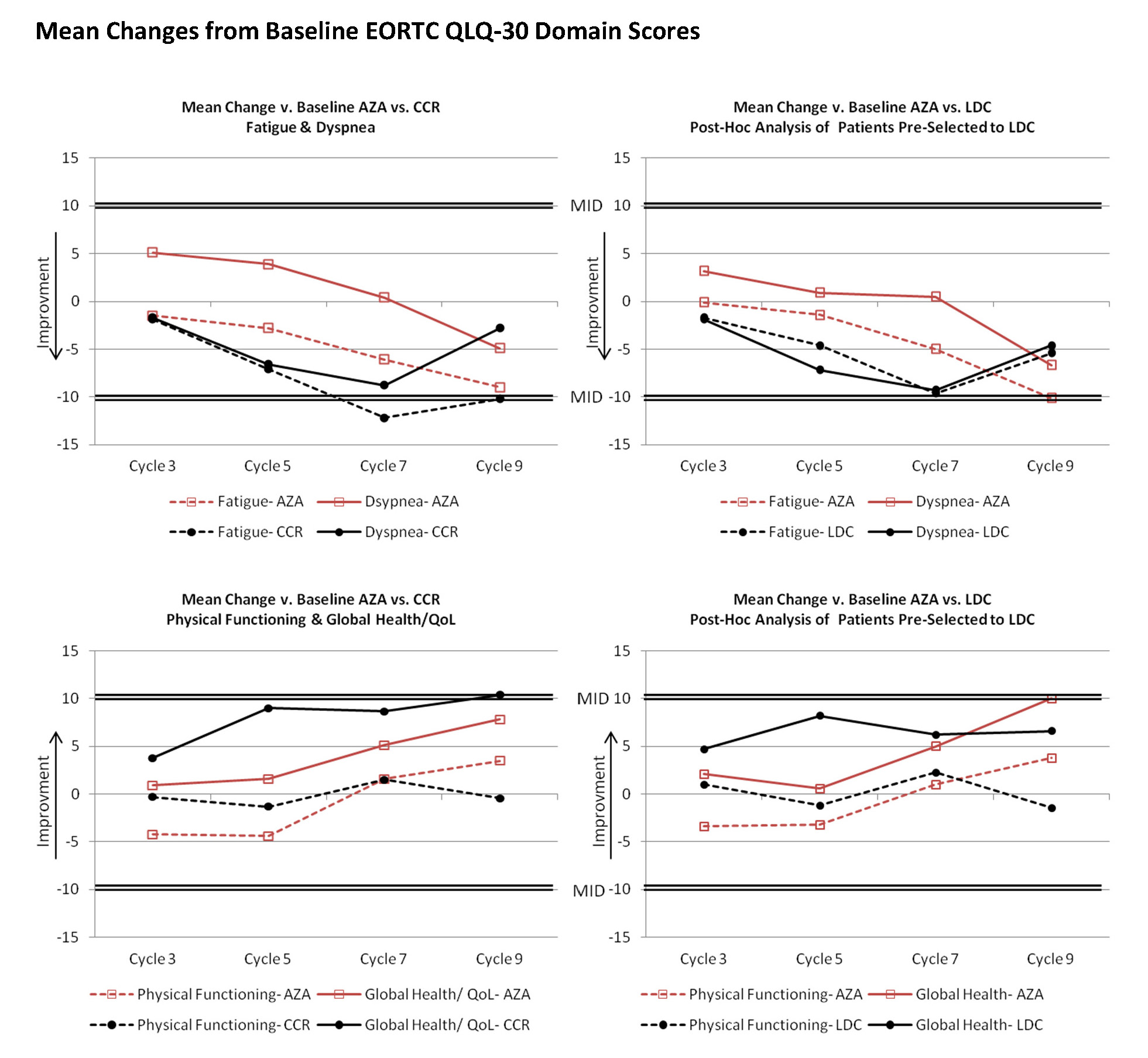 Session topic:
Acute myeloid leukemia - Clinical 1