Abstract: PS994
Type: Poster Presentation
Presentation during EHA24: On Saturday, June 15, 2019 from 17:30 - 19:00
Location: Poster area
Background
Diagnosis of CMML according to WHO 2017 requires the presence of ≥1x109/L and ≥10% of monocytes in peripheral blood (PB). Recently, Geyer et al. described oligomonocytic CMML (O-CMML) as those MDS cases with relative monocytosis (≥10% monocytes) and monocyte count 0.5­<1x109/L. The authors showed that molecular signature and outcome of O­CMML were similar to overt CMML, suggesting that this represents an early­phase of CMML. The study of peripheral monocyte subsets by flow cytometry (FC) has gained interest for CMML diagnosis. As showed by Selimoglu­Buet et al., the increase in the fraction of classical monocytes (Mo1) to >94% of total monocytes is a highly sensitive and specific diagnostic marker for CMML
Aims
Since O-CMML seems to be in the continuum of CMML, it is crucial to determine if these patients show a PB monocyte subset distribution similar to CMML. CD56 expression in monocytes is a typical feature of CMML and is rarely observed in MDS, therefore it seems interesting to assess this feature in O-CMML. Finally, we evaluate if O-CMML showed a high incidence of TET2/SRSF2 co-mutation, the gene signature of CMML
Methods
42 CMML, 20 O-CMML, 8 MDS without relative monocytosis and 70 reactive monocytosis with ≥1x109/L monocytes (N=140) were prospectively studied from 02/2016 to 02/2019. Patient characteristics are summarized in Table 1. We performed FC study of monocyte subsets in PB describing Mo1 (CD14bright/CD16-), Mo2 (CD14bright/CD16+) and Mo3 (CD14dim or -/CD16bright). In addition, we assessed the expression of CD56 in monocyte population (cutoff positivity ≥ 20%). Finally, we applied a custom NGS gene panel focusing on TET2/SRSF2 co-mutation (VAF detection sensitivity: 0.02). Comparisons were evaluated by Chi-Square test, Fisher exact test or Man-Whitney U-test as appropriate
Results
a)The median percentage of classical monocytes (Mo1) was significantly inferior when comparing O-CMML with CMML (96% vs 98%; P=0.009) but O-CMML showed a significant higher median percentage than MDS (88%; P=0.001) and reactive monocytosis (89.9%; P<0.001). No significant differences were observed between MDS and reactive monocytosis group (P=0.296).
b)The percentage of patients with >94% Mo1 was no significantly different when comparing O-CMML and CMML (74% vs 86%; P=0.294), nevertheless the percentage of O-CMML patients showing this feature was significantly higher in comparison with MDS (0%; P=0.001), the group where these patients are currently included following WHO 2017 criteria, and reactive monocytosis (20%; P<0.001). Table 2.
c) No differences were observed in the percentage of patients showing CD56 expression in monocytes when comparing O-CMML and CMML (68.4% vs 69%; P=0.92), nevertheless MDS (12.5%; P=0.001) and reactive monocytosis (8.6%; P<0.001) showed this feature in very few cases. Table 2.
d)We observed no significant difference in the presence of TET2/SRSF2 co-mutation between O-CMML and CMML (42% vs 35%; P=0.73). This was not detected in MDS.
e)The sensitivity (S) and specificity (SP) of the Mo1>94% test was lower in our series than the originally reported by the GFM group (S: 90%; SP: 95%). Our S and SP was 86% and 71% with a PPV of 56% and a NPV of 92%. This could be explained by a high number of false positives since O-CMML patients are currently considered as MDS. When considering these as CMML the test performed better with a S and SP of 82% and a PPV and NPV of 78% and 85% respectively.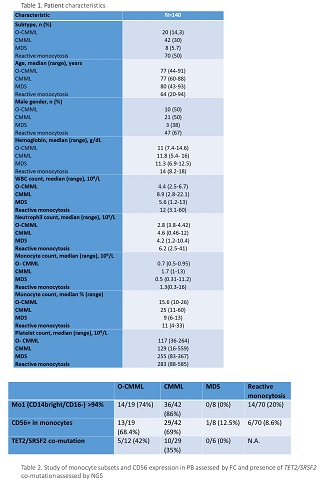 Conclusion
Our data support the diagnosis of O-CMML as a distinctive entity with biological features similar to CMML
Session topic: 3. Acute myeloid leukemia - Biology & Translational Research
Keyword(s): Chronic myelomonocytic leukemia, Cytometry, MDS, Monocyte