Abstract: PS990
Type: Poster Presentation
Presentation during EHA24: On Saturday, June 15, 2019 from 17:30 - 19:00
Location: Poster area
Background

Since the establishment of the European LeukemiaNet (ELN) research network, risk stratification of AML was significantly improved. However, proper risk classification of intermediate risk patients remains difficult. Therefore, we evaluated the impact of the adaptor protein NTAL, a lipid-raft transmembrane protein, regarding AML risk stratification. To do so we determined the genomic/proteomic expression of NTAL and its main ligands in AML patients stratified according to the ELN.
Aims

To improve the predictive outcome of ELN in AML patients, we combined proteomics and genomics approaches to generate an integrative score (IS) based on the NTAL signaling pathway that could improve the ELN2008 outcome prediction in AML.
Methods

AML cell (NB4/U937) lysates were subjected to immunoprecipitation of NTAL protein followed by tryptic digestions performed directed from beads. Samples were subjected to online nanochromatography (LTQ-Orbitrap-Velos). Using the Perseus package, 42 related proteins were identified. As a learning set, samples from 139 adult patients diagnosed with de novo AML (75 males; median age: 54y) available in the TCGA study were analyzed. Patients with FAB-M3 diagnosis and not treated with the 3+7 chemotherapy regimen were excluded. Integer weights for the IS were derived from Cox proportional hazard model, using OS as primary endpoint. Variables with P-values lower than .05 were included in the model. The model construction was based on gene expression of NTAL, CSK, LYN, HCK, LGALS1 and PHB genes dichotomized by the median value. Hazard ratios (HR) for OS were calculated for each variable separately and HR was converted to integer weights: HR>1 and <1.5 were assigned a weight of 1; HR>1.5 and <2.0 were assigned a weight of 2; HR>2.0 were assigned a weight of 3. The final IS was the sum of these integer weights. For the purpose of comparison, AML samples and purified CD34 cells from healthy donors available at the Amazonia! databank were included.
Results

Among the 6 selected genes used to create the IS, only HCK/CSK transcript levels were significantly increased in AML samples compared to normal CD34 cells available at Amazonia! (P<.05 for both). In the TCGA cohort, following the ELN risk stratification (available on the dataset), 14%, 52%, 13% and 21% of patients were classified as favorable, intermediate-I, -II and adverse, respectively. Higher expression of all genes used in the IS were independently associated with lower OS considering ELN confounder (P<.05). Complete data for score modeling was available for 121/139 patients (median score: 10, range: 0-13). We divided the IS in three groups: low-risk (1th-quartile), intermediate (2th- and 3th-quartiles) and high-risk (4th-quartile) based on the outcomes. Except for a higher leukocyte count at diagnosis in patients assigned to the high-risk group (P<.01), no significant differences in baseline features were found amongst the groups. With a median follow up of 21 months (95%CI:17-27m), the estimated 5y OS rate was 29% (95%CI:21-36%). The OS rates were significantly different amongst the patients assigned to the 03 IS groups (HR:1.5;95%CI:1.2-1.8; P<.01) and these data were supported by multivariate analysis considering leukocyte count, age, gender and ELN as confounders (P<.01). The 5y DFS rate was 35% (95%CI:26-43%) and the IS was able to independently stratify the DFS rates (HR:1.3; 95%CI:1.04-1.7; P=.024).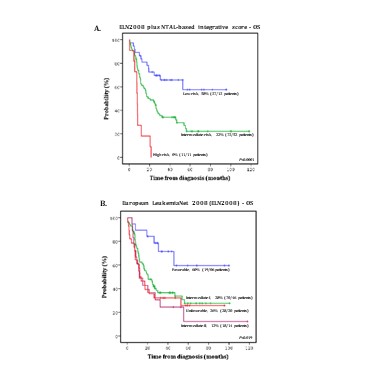 Conclusion

In summary, the IS was able to improve the ELN risk stratification in AML patients, with significant differences in DFS and OS. We will next validate these findings in a validation cohort.
Session topic: 3. Acute myeloid leukemia - Biology & Translational Research
Keyword(s): Acute myeloid leukemia, CD34+ cells, Outcome measurement, Risk factor