Abstract: PS1464
Type: Poster Presentation
Presentation during EHA24: On Saturday, June 15, 2019 from 17:30 - 19:00
Location: Poster area
Background
Despite the important progress in the research of myeloproliferative neoplasms (MPN) in the last years, treatment options are still limited. Currently, a cytoreductive approach is the backbone treatment, with hydroxyurea (HU) being the most important agent. However, this drug is not always well tolerated and seems to be associated with a potential leukemogenic effect. A valid alternative treatment is interferon alfa (IFN-α), but is reserved for selected patients due to the more frequent side effects and the lack of studies directly comparing IFN-α to HU.
Aims

In order to provide more insights into this open question, we prospectively compared the efficacy and safety of these two drugs in Ph- MPN patients.
Methods
From 2000 to January 2016 we prospectively assessed all newly diagnosed patients affected by Ph- MPN who received either HU at induction dosage of 15 to 20 mg/kg daily until achievement of hematologic remission, followed by maintenance therapy at 10 to 15 mg/kg daily, or IFN-α 3 MU subcutaneously three times a week. The treatment was selected on physician's choice.
Results
Between January 2000 and January 2016, 63 consecutive patients were diagnosed with Ph- MPN: 28 were affected by polycythemia vera (PV) and 35 by essential thrombocytosis (ET). Fifteen patients with PV (54%) and 20 with ET (57%) were treated with IFN-α, while 13 with PV (46%) and 15 with ET (43%) received HU, respectively. Clinical characteristics were similar between both treatment groups and no significant differences were observed. During a median follow-up period of 121 months (range, 88–168 months), 97% of the patients treated with IFN-α achieved a hematologic response [60% complete (CHR), 37% partial (PHR)] compared to 78% in HU group (56% CHR, 20% PHR; p< 0.01). Molecular responses were limited to patients treated with IFN-α. Among these, the overall molecular response rate was 60% in both PV and ET. Complete molecular response was achieved in 20% patients with PV and in 10% with ET, whereas partial molecular response in 33% and 20% of patients with PV and ET, respectively. In addition to molecular genetic analysis, we performed conventional cytogenetics on all patients at diagnosis and during treatment. Six patients were found to have abnormalities on metaphase cytogenetics pretreatment with IFN-α. Of these 6 patients, 1 had resolution of cytogenetic abnormalities during the study. We did not observe acquisition of new cytogenetic abnormalities in these 6 patients or in the others with normal baseline cytogenetics during therapy. Four patients were found having cytogenetic abnormalities before HU and two more developed new abnormalities over the course of the treatment, suggesting that this drug is not able to prevent leukemogenesis. Overall, a clear survival advantage was observed in the IFN-α group. There was an improvement both in median progression free survival (5.0 and 3.1 years in the IFN-a and HU groups, respectively; p<0.001; Figure 1A) and overall survival (7.8 vs 5.8 years in IFN-α and HU groups, respectively; p=0.006; Figure 1B) in patients who received IFN-α compared to HU. IFN-α was well tolerated with no secondary malignancy, while HU was associated with more toxic events and seemed to increase risk of leukemia.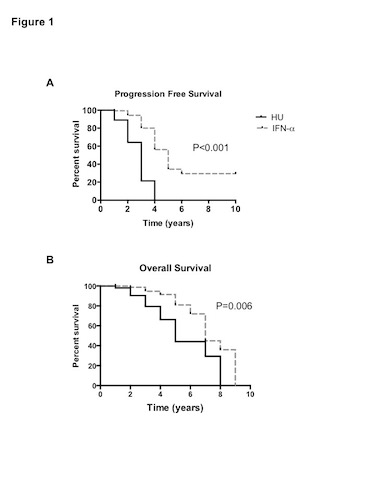 Conclusion

We provide evidence that IFN-α might be a more valid therapeutic option due to its more profound hematologic responses, durable molecular remissions, long-term disease control and reduced risk of leukemic transformation with a favorable toxicity profile.
Session topic: 16. Myeloproliferative neoplasms - Clinical
Keyword(s): Hydroxyurea, Interferon alpha, Myeloproliferative disorder, Polycythemia vera