Abstract: PS1415
Type: Poster Presentation
Presentation during EHA24: On Saturday, June 15, 2019 from 17:30 - 19:00
Location: Poster area
Background
Multiple myeloma (MM) is the second most frequent hematologic malignant disease. The estimated 5-year overall survival (OS) is around 50%. The prognosis has steadily increased over last decades due to the introduction of autologous stem cell transplantation (ASCT) and novel drugs such as thalidomide, lenalidomide and bortezomib. However, many studies in MM do not reflect properly the true real-world population.
Aims
Analyze the survival outcome improvements, as well as determine the incidence and causes of early mortality (EM) and predictors of long-term survival over the last 45 years in MM patients treated and followed at a single institution.
Methods
We reviewed the clinical records of MM patients diagnosed at a single institution between 1970 and 2015. One thousand one hundred sixty-one patients (591 [50.9%] male; median age at diagnosis 64 years) was the final study population. Median follow-up for alive patients was 5.4 years (range, 0.5-34.4 years). Relative survival (RS) and disease-specific incidence mortality were calculated and expressed in incidence rate ratio (IRR). Long-term survival was defined as those who lived more than 10 years after diagnosis of MM. The population was divided into three periods, which included: group A (1970 to 1985), group B (1986 to 1999) and group C (2000 to 2015).
Results

The median OS (mOS) of all patients was 3.6 years (95% CI: 3.2-3.8) from diagnosis. When demographic effects of age, sex, and year of diagnosis were compensated, the RS showed a continuous improvement during the periods analyzed, more pronounced in group C. The 5-year and 10-year RS were 26% and 8% in group A, 36% and 18% in group B, and 56% and 33% in group C, p<0.01. In the stratified analysis by age and sex, group B and C retained its prognostic value in terms of IRR compared with group A (Figure 1).
The EM rate (first 60 days after diagnosis) was 5.8%; 16.5% in Group A, 5.5% in Group B, and 2.6% in Group C; p<0.01. The most frequent causes of early mortality were disease-related (46.7%, 63.6% and 66.6%; respectively), and infectious complications (36.7%, 22.7%, and 20.0%; respectively). In the multivariate Cox proportional hazard model in patients who received novel drugs, thrombocytopenia (OR 5.07, p=0.04), hypercalcemia (OR 11.5, p<0.01) and high beta-2 microglobulin (OR 8.81, p<0.01) were significantly associated with EM.
Regarding long-term survival, in the multivariate analysis, clinical variables at diagnosis associated with >10-year survival were age <60 years (OR 2.23, p=0.02), and performing ASCT (OR 4.25, p<0.01).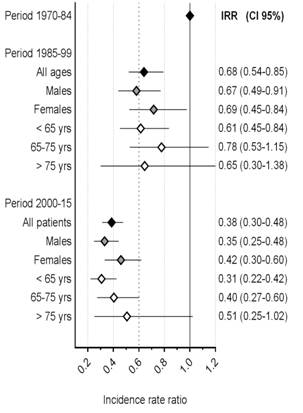 Conclusion
This study shows that the survival outcome has significantly improved over the last decades in all age groups, probably due to ASCT and novel drugs. The incidence of EM has decreased over time, being the most frequent causes of MM progression and infectious complications. Thrombocytopenia, hypercalcemia and high beta-2 microglobulin were associated with worst early outcomes. Finally, these data identify age <60 years, and ASCT as important predictors of long-term survival.
Session topic: 14. Myeloma and other monoclonal gammopathies - Clinical
Keyword(s): Incidence, Mortality, Myeloma