Abstract: PS1399
Type: Poster Presentation
Presentation during EHA24: On Saturday, June 15, 2019 from 17:30 - 19:00
Location: Poster area
Background
Light chain (AL) amyloidosis is a plasma cell dyscrasia (PCD) in which misfolded light chains deposit in target organs, either as a primary condition, or as a complication of multiple myeloma. Recent clinical trials demonstrated the safety and efficacy of daratumumab (DARA) for the treatment of newly diagnosed and relapsed AL amyloidosis. Yet, clinical trials enroll a selective population with adequate organ reserves, this may exclude a significant proportion of AL amyloidosis patients. Thus there is particular importance to investigate treatment patterns and outcomes of DARA therapy in the real world setting.
Aims
We aimed to analyze outcomes of DARA alone and in combinations for the treatment of relapsed/ refractory (R/R) AL amyloidosis, among a multi-site cohort of the Israeli Myeloma Working group.
Methods
Hospital records were reviewed to identify all consecutive patients with AL amyloidosis, treated with DARA as monotherapy or in combinations. Patients (Pts) with primary AL amyloidosis or with myeloma complicated by amyloidosis, who received at least one cycle of DARA for R/R disease were included. Clinical characteristics including baseline PCD characteristics, particularly organ involvement and prior treatment exposure and response were extracted from clinical charts. Overall response rate (ORR) was classified according to IMWG criteria. Primary endpoint was progression free survival (PFS). Secondary endpoints included overall response rate (ORR), organ response, overall survival (OS), safety and tolerability.
Results
Forty-two patients, diagnosed with AL Amyloidosis between 1.1.2008 and 1.2.2018 in 6 medical centers, were included. Patient's characteristics are described in table 1. Cardiac involvement was reported in 71%. DARA was used as ≥ 2nd line in all patients and was initiated at a median time of 14.3 (range: 1.8-126.3) months since AL diagnosis. Thirty (71%) Pts received DARA in combination with an additional anti-myeloma drug:  IMids in 25 (59%, mostly lenalidomide, n=21), proteasome inhibitors in 10 (23.8%, mostly bortezomib, n=7 ) or cyclophosphamide in 2 Pts (5%). Median follow up time was 10 months. Hematologic ORR was 93% (39/42): CR 14 (33%) / VGPR 16 (38%) / PR 9 (21%). Cardiac response was reported in 13 of 23 evaluable Pts (57%), median time to response was 5 months; renal responses were reported in 9/17 (53%) in a median time of 6 months. Median PFS and OS were not reached; at 10 months PFS was 75% and OS was 85%. Treatment is ongoing in 32 Pts. Seven out of the 10 remaining Pts discontinued treatment due to progressive disease, and 8 Pts in total have died. None discontinued due to toxicity. Twenty nine (69%) Pts were reported to have therapy related adverse events (AEs), 13 (31%) had an AE of grade ≥ 3. AEs reported in at least 10% of Pts included: non-pneumonia infections in 20 (48%) (grade ≥ 3: 7 Pts), pneumonia in 16 (38%) (grade ≥ 3: 5 Pts), peripheral neuropathy in 9 (21%, grade ≥ 3:  3Pts ), dyspnea in 8 (19%, grade ≥ 3: 4 Pts) and cardiovascular toxicity in 6 (14.3%,  grade ≥ 3: 4 Pts).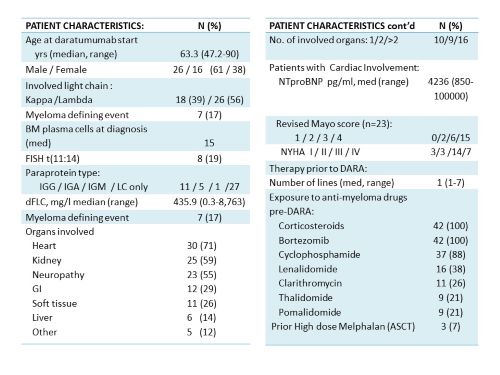 Conclusion
We report real world outcomes of 42 Pts with AL amyloidosis, who received DARA with or without additional anti-myeloma drug combinations as their second or subsequent line of therapy. Almost all Pts (93%) achieved a hematologic response, and over half achieved cardiac and/or renal responses. Safety profile appears typical for this patient population, most AEs were infections. Our data suggest a favorable safety tolerability and efficacy profile of DARA among nonselective R/R AL amyloidosis patients in a real world setting.
Session topic: 14. Myeloma and other monoclonal gammopathies - Clinical
Keyword(s): Amyloidosis, Monoclonal antibody