Abstract: PS1380
Type: Poster Presentation
Presentation during EHA24: On Saturday, June 15, 2019 from 17:30 - 19:00
Location: Poster area
Background
The level of programmed death ligand 1 (PD-L1) on multiple myeloma (MM) cells is associated with relapse, treatment refractory disease and an aggressive disease phenotype. We have identified naturally occurring T cells specific to PD-L1. These PD-L1 specific T cells are naturally present in healthy donors as well as cancer patients. We have previously shown that stimulation of PD-L1 specific T cells has a boosting effect on anti-viral immunity (Ahmad et al, Leukemia 2013) and that PD-L1 specific T-cells are cytotoxic towards PD-L1 positive cancer cells (Munir et al, Cancer Res, 2013). Based on these and additional data, we have developed a peptide vaccine against PD-L1.
Aims
The primary endpoint was safety, a secondary endpoint was immunogenicity of the vaccine. An exploratory outcome was efficacy (NCT03042793).
Methods
This is a single center first-in-human study which included patients from four weeks to one year after high dose chemotherapy with autologous stem cell support (HDT). Apart from the experimental vaccinations, no maintenance treatment was given. All patients received zoledronic acid. Key eligibility criteria were performance status (ECOG) of 2 or less, no severe comorbidities or autoimmune diseases and no signs of relapse of myeloma. The vaccine consists of a 19-amino acid peptide from the signal peptide of PD-L1 (IO103). One vaccine contains 100 µg peptide aqueously dissolved and emulsified 1:1 with the adjuvant Montanide ISA-51 (Seppic Inc. Paris, France) giving a total volume of 1 ml. Vaccinations were given as a subcutaneous injection every two weeks repeating six times and once every four weeks thereafter to reach a total of 15 vaccines. Adverse events were assessed according to CTCAE v.4.03. Bone marrow, serum and peripheral blood mononuclear cells were collected before, during and after the course of vaccines. Delayed type hypersensitivity (DTH) reaction against the vaccine was performed once after 6 injections. 48 hours after DTH-injection, punch-biopsies were taken from the sites of DTH-injections. Skin infiltrating lymphocytes (SKILs) were grown from these biopsies, and their reactivity against the vaccine was tested in enzyme-linked immune-spot assays (ELISPOT).
Results
Ten patients were included at the department of Hematology at Hospital Herlev, Denmark, between March and November 2017. Four women and six men. Mean age 60.3 (range 39-70). Adverse reactions to the PD-L1 vaccine (IO103) have been mainly grade 1-2 injection site reactions. The rate of infections was as expected for the population. 8 of 8 patients with evaluable SKILs show strong reactions to the vaccine (Fig 1). Analysis of the remaining immune data is being performed and will be reported. Before start of vaccinations four patients were in complete response (CR) or better and five patients were in very good partial response (VGPR). Since the start of vaccinations, six of the ten patients have experienced relapse of MM. Nine patients are still alive. The rate of relapses was as expected for the population. Interestingly one patient had spontaneous clearance and one patient had significant regression of concurrent basal cell carcinoma during the course of vaccinations.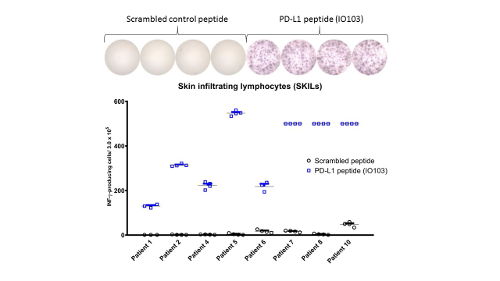 Conclusion
Vaccinations with the PD-L1 peptide (IO103) was associated with very limited side effects. The vaccine is highly immunogenic. Two phase IIa studies testing PD-L1 (IO103) as monotherapy are ongoing, one for patients with high-risk smoldering multiple myeloma (NCT03850522) and one for patients with basal cell carcinoma before surgery (NCT03714529).
Session topic: 14. Myeloma and other monoclonal gammopathies - Clinical
Keyword(s): Immune therapy, Myeloma