Abstract: PS1379
Type: Poster Presentation
Presentation during EHA24: On Saturday, June 15, 2019 from 17:30 - 19:00
Location: Poster area
Background
A.R.R.O.W. demonstrated superior progression-free survival (PFS) with once-weekly carfilzomib (K, 70 mg/m2) and dexamethasone (Kd70) vs twice-weekly K (27 mg/m2) and dexamethasone (Kd27) in relapsed and refractory (RRMM) patients (pts), regardless of age. For a comprehensive measure of fitness, frailty scales were developed incorporating age, comorbidities, and functional status (Palumbo Blood 2015;125:2068–74; Facon Blood 2015;126:4239).
Aims
Here, we assessed post-hoc pt outcomes by frailty status.
Methods
PFS and safety were assessed by treatment arm and a frailty algorithm which incorporated age, Charlson Comorbidity Index derived from medical history, and ECOG performance status; pts with frailty scores of 0, 1, or ≥2 were classified as fit, intermediate, or frail, respectively. PFS was assessed using the Kaplan-Meier method. Safety was assessed in pts who received ≥1 treatment dose.
Results
The distribution of pts by frailty status was generally balanced between treatment arms (Table). Once-weekly Kd70 vs twice-weekly Kd27 resulted in median PFS for fit, intermediate, and frail pts of 15.7 vs 5.7 months (hazard ratio [HR] 0.53 [95% confidence interval (CI), 0.33–0.86]), 11.1 vs 7.7 months (HR 0.81 [95% CI, 0.55–1.19]), and 10.3 vs 6.6 months (HR 0.76 [95% CI, 0.49–1.16]), respectively.
Rates of grade ≥3 treatment-emergent adverse events (TEAEs) of interest were similar between treatment arms across frailty subgroups (Table). In the once-weekly Kd70 subgroups, there was no grade ≥3 peripheral neuropathy and grade ≥3 cardiac failure rates were ≤4%.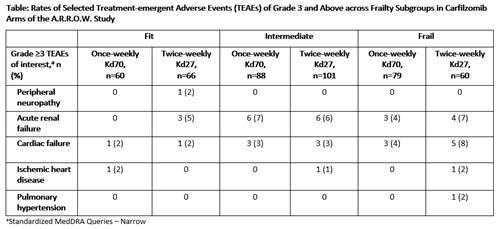 Conclusion
Once-weekly Kd70 resulted in PFS benefits vs twice-weekly Kd27, regardless of frailty level. These results support weekly Kd70 as a treatment option for fit and frail RRMM pts.
Session topic: 14. Myeloma and other monoclonal gammopathies - Clinical
Keyword(s): Multiple myeloma, Proteasome inhibitor
© 2019 American Society of Clinical Oncology, Inc. Reused with permission. This abstract was accepted and previously presented at the 2019 ASCO Annual Meeting. All rights reserved.