Abstract: PS1329
Type: Poster Presentation
Presentation during EHA24: On Saturday, June 15, 2019 from 17:30 - 19:00
Location: Poster area
Background

High-risk myelodysplastic syndrome (HR-MDS) is characterized by decreased apoptosis of bone marrow precursors which correlates with expression of BCL-2 protein, and is at risk of evolving to acute myeloid leukaemia (AML) with increased bone marrow blasts. This disease occurs in elderly patients and has a poor prognosis in the absence of efficient treatment. Indeed only 15 % of patients are eligible for bone marrow transplantation. The evaluation of new therapeutic agents in animal models of the disease is hampered by the absence of accurate in vivo biomarkers to follow the effect of the treatments, because bone marrow biopsy, although feasible is not easy in mice. 18F-fluoro-thymidine Positron Emission Tomography (FLT‑PET) allows in vivo quantification of cell proliferation and has been suggested for the diagnosis and follow-up of patients with myelodysplastic disorders.
Aims

Our aim was to evaluate the ability of FLT‑PET to monitor bone marrow involvement in our triple transgenic MMTVtTA/TetoBCL‑2/MRP8NRASD12 mouse model of HR‑MDS.
Methods

We investigated 3 groups of mice (FVB/N strain): normal control mice (G1, n=7), 2‑months old HR-MDS mice (G2, n=8), and 3 months-old HR-MDS mice (G3, n=8). All mice underwent FLT-PET/CT imaging using Inveon® microPET/CT device (Siemens), after intravenous injection of 7-10 MBq of [18F]FLT. Static acquisitions (15 minutes duration) were acquired 1h15 after radiotracer injection. [18F]FLT uptake in femoral bone marrow was quantified and normalized by the background unspecific blood pool activity, by using volumes of interest manually drawn on PET images (femurs, heart). Just before PET imaging, peripheral blood samples were taken for blood counts, and for BCL-2 and Mac-1hi/Gr-1lo (blast cells) expression measurements by flow cytometry.
Results

Peripheral blood platelet counts were 1055±221, 895±118 and 823±181 x103/mm3 in G1, G2 and G3 respectively (NS). BCL-2 expression was 1.2±1.1 % in G1, 18±4 % in G2 (vs G1: p<0.001) and 33±13 % in G3 (vs G1: p<0.02, vs G2: p<0.05).  Mac-1hi/Gr-1lo expression was 1.3±1.8 % in G1, 15±10 % in G2 (vs G1: NS) and 24±2 % in G3 (vs G1: p<0.002; vs G2: NS). FLT-PET images of HR-MDS mice demonstrated unilateral or bilateral asymmetric hot spots in femoral diaphysis, and in humeral bones in some cases. PET contrast in femoral bone marrow was 1.07±0.21 in G1, 1.62±0.67 in G2 (vs G1: p<0.03) and 2.07±1.08 in G3 (vs G1: p<0.02; vs G2: NS).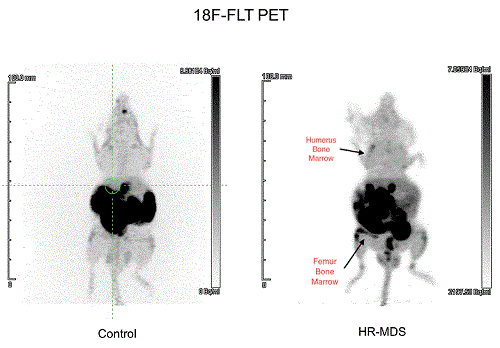 Conclusion

FLT-PET imaging shows femoral bone marrow abnormalities in HR-MDS mice, with intensity increasing with age, BCL-2 and Mac-1hi/Gr-1lo peripheral blood expression whereas platelets counts inversely decreased. These results suggest that FLT-PET imaging is a surrogate non-invasive quantitative marker of HR-MDS bone marrow involvement and may be used for therapy monitoring in our mouse model.
Session topic: 9. Myelodysplastic syndromes - Biology & Translational Research
Keyword(s): Animal model, Bone marrow involvement, MDS/AML