Abstract: PS1248
Type: Poster Presentation
Presentation during EHA24: On Saturday, June 15, 2019 from 17:30 - 19:00
Location: Poster area
Background

Despite the improvement in therapeutic schedules, a relevant fraction of mantle cell lymphoma (MCL) patients still experience primary treatment failure. This is due to a deep biological heterogeneity, not adequately dissected by the clinical predictors alone, as the MIPI (MCL International Prognostic Index).
Aims

The Fondazione Italiana Linfomi (FIL) MCL0208 trial (NCT02354313) is a prospective, randomized phase III trial comparing lenalidomide maintenance vs observation after an intensive citarabine containing chemo-immunotherapy followed by autologous transplantation in frontline MCL patients <66 years.[Ladetto, ASH 2018] Several biological ancillary studies were planned upfront, prospectively investigating the prognostic impact of putative biomarkers. Here we present a comprehensive analysis of the clinical impact of all the identified biopredictors.
Methods

Trial details, as well as methods for immunohistochemistry, flow cytometry (FC), immunoglobulin heavy chain (IGH) gene sequencing and minimal residual disease (MRD) analysis have been presented.[Ferrero, ASH 2018] The "BCR-high" gene expression signature was tested by RT-PCR [Bomben, Haematologica 2018], somatic mutations by high-throughput targeted resequencing.[Ferrero, EHA 2017]. The optimal cut-off value for FC was determined by applying receiver operating curve (ROC) analysis. Survival analyses were performed by both univariate (UV) and multivariate (MV) Cox modeling via R (v.3.5.2): the variables showing a p<0.2 after UV were selected for the MV, including cases with missing values.
Results

Among the 300 enrolled patients the MIPI scored 60% low, 24% intermediate and 16% high. Overall, 233/296 (79%) patients presented at baseline bone marrow (BM) infiltration (inf), for a median FC value of 7% (0.01-93) and 4% in peripheral blood, PB (0.02-92). 250/300 (83%) showed a molecular marker for MRD and 211 (84%) an available IGH sequence: IGHV3-21 (21%), IGHV4-34 (16%) and IGHV3-7 (8%) were the most frequent rearrangements. Median IGH homology was 99.2% (89.9-100), with 163 cases (77%) above the 98% cut-off (UM). 22 (10%) showed a stereotyped IGH. 84/271 patients (31%) showed Ki-67≥30%, 167/183 (92%) SOX11+, 27/300 (9%) blastoid histology (B-hist), 15/186 (8%) TP53, 23/186 (12%) KMT2D and 14/186 (8%) NOTCH1 mutations (mut), 40/83 (48%) "BCR-high" signature. After a median follow-up of 51 months, several baseline biopredictors negatively impacted PFS in UV: BMinf, high FC-BM/PB, MRD marker+, IGH-UM, Ki-67≥30%, B-hist, TP53 and KMT2D mut, "BCR-high" signature. No significant outcome discrimination could be made on the basis of stereotyped IGH or SOX11 staining. After MV BMinf, IGH-UM, B-hist, TP53/KMT2D mut remained significant, as opposed to MIPI. Similar results were reported for OS by UV, indicating FC-BM/PB, Ki-67≥30%, B-hist, TP53/KMT2D mut as significant predictors. Finally, after MV, Ki-67≥30%, B-hist and KMT2D mut remained significant for OS, as opposed to MIPI (Table1).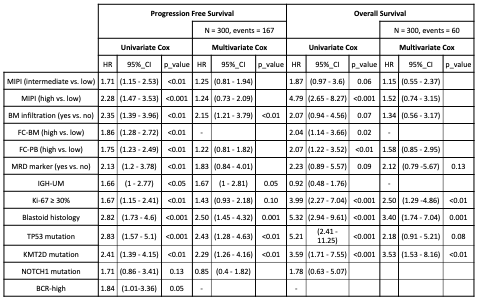 Conclusion

This is the first comprehensive analysis of the clinical impact of a composite panel of easily implementable biopredictors in a multicenter, prospective, clinical trial for MCL patients. Several variables maintain their independent prognostic value, underlining the biological complexity of MCL. Notably, all these biomarkers are of relative simple and applicable determination. Interestingly, the biological predictors outperformed the predictive value of clinical predictors, such as MIPI, suggesting that biological features are the key drivers of outcome in MCL.
Session topic: 18. Indolent and mantle-cell non-Hodgkin lymphoma - Clinical
Keyword(s): Clinical trial, Mantle cell lymphoma, Mutation, Prediction