Abstract: PS1247
Type: Poster Presentation
Presentation during EHA24: On Saturday, June 15, 2019 from 17:30 - 19:00
Location: Poster area
Background
Tazemetostat, a selective, oral inhibitor of the histone methyltransferase EZH2, has shown antitumor activity in patients with follicular lymphoma (FL). Gain-of-function (GOF) mutations in EZH2 are found in 20–25% of tumors from FL patients, and mutant (MT) EZH2 is widely considered an oncogenic driver of the disease. Some studies suggest GOF EZH2 mutations may provide a prognostic benefit in the frontline setting (1L) in FL patients treated with immunochemotherapy regimens. However, the impact of mutant EZH2 on clinical outcomes in the setting of relapsed/refractory (R/R) FL patients receiving systemic anticancer therapy beyond immunochemotherapy remains to be determined.
Aims
This multi-center study is intended to evaluate the impact of EZH2 activating mutations on outcomes in patients with FL. Results of an interim analysis are presented.
Methods
Retrospective data on therapy types and clinical outcomes are being collected from 5 academic sites. Available data from 3 sites (Barts Cancer Institute, Institute Gustave Roussy, Semmelweis University) were analyzed to determine clinical outcome parameters and to compare those between patients with and without EZH2 mutations. Best overall response rate (ORR), as judged by the treating physician at each site, were compared by EZH2 status and stratified by line of therapy using the Cochran-Mantel-Haenszel chi-square test. Progression-free survival (PFS) and overall survival (OS) were calculated using the Kaplan-Meier method, and compared by the logrank test. Tumor tissues collected primarily at the time of diagnosis were analyzed for activating mutations of EZH2 (Y646X, A682G, A692V) using various approaches, including next generation sequencing, digital droplet PCR (BioRad) and the cobas® EZH2 Mutation Test (Roche Molecular Systems).
Results
Data from 590 patients with EZH2 MT (n=140) or wild-type (WT; n=450) FL treated with systemic anticancer therapy between December 1972 and December 2017 at 3 academic centers were included for analyses. The frequency of EZH2 activating mutations was 24%. In 1L, 43% of patients received immunochemotherapy. In second line (2L) and beyond, the majority of patients received chemotherapy (65–80%) and 14–20% received immunochemotherapy. Median follow-up from diagnosis was 10.5 years (95% CI, 9.7–11.5). No significant differences in ORR between MT and WT EZH2 cohorts were found in either 1L or 2L or when third line and all subsequent lines of therapy were grouped together (3L+). In the combined dataset, ORR for MT and WT EZH2 cases in 1L were 89% and 87%, respectively (P=0.493) and 73% and 73%, respectively (P=0.996) in 2L. The ORR for patients in 3L+ were 82% and 80% for MT and WT cohorts, respectively (P=0.647). Analysis of PFS by line of therapy in the combined dataset suggested there were no statistically significant differences (P>0.05) between R/R FL patients with MT and WT EZH2 for any line of therapy. In addition, OS was not statistically significantly different for patients with and without EZH2 mutations (median OS 12.7 vs 16.6 years, respectively; P=0.464; Figure).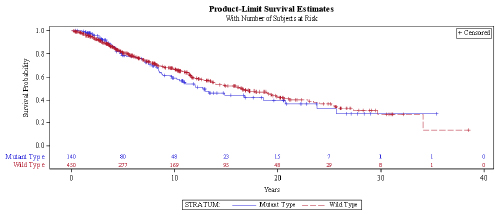 Conclusion
These results reveal no difference in ORR or PFS by line of therapy in R/R FL patients with either MT or WT EZH2. Similarly, MT EZH2 was not associated with significantly longer OS in this study. These findings suggest that MT EZH2 does not act as a positive prognostic factor and that any clinical activity observed in patients with R/R FL treated with standard of care agents or tazemetostat is most likely due to the drugs' mechanism of action.
Session topic: 18. Indolent and mantle-cell non-Hodgkin lymphoma - Clinical
Keyword(s): EZH2, Follicular lymphoma, Mutation, Relapsed lymphoma