Abstract: PS1180
Type: Poster Presentation
Presentation during EHA24: On Saturday, June 15, 2019 from 17:30 - 19:00
Location: Poster area
Background
Background: Dasatinib, a potent BCR-ABL tyrosine kinase inhibitor (TKI), is approved for the treatment of chronic phase CML (CML-CP) in the frontline and salvage settings. Notable side effects include pleural effusions and myelosuppression. We previously reported dasatinib 50mg daily to be active and better tolerated than the approved 100mg daily dose (CANCER. 2018 Jul 1;124(13):2740-2747).
Aims
An update on the efficacy and toxicity profile of lower dose dasatinib 50 mg orally daily in patients with early CML-CP.
Methods
All patients presenting to our institution in early CML-CP were eligible to participate. Prior TKI therapy for up to 1 month was allowed. Responses were assessed according to the European LeukemiaNet guidelines (Baccarani et al. Blood 2013 122.872:884). 
Results
From March 2016 to March 2018, 81 patients have been enrolled. Median age is 47 years (20-84). Patients categorized by Sokal risk are: low 53; intermediate 22 and high 6.  Median follow-up is 18 months (9-31). Cumulative response rates (n=81) over time are shown in the gragh below.
At 3 months, 96% patients achieved early molecular response (BCR-ABL PCR ≤10%). Median time to CCyR was 4.6 months, MMR 6.0 months, MR4.0 11.4 months and MR4.5 12.2 months. Eighteen patients had treatment interruption: pleural effusion 4 (possibly related 3, unrelated 1 due to pneumonia); gastrointestinal bleed 2; thrombocytopenia 3; transaminitis 2; renal dysfunction 1; asthma exacerbation 1; pneumonitis 1; lower extremity edema 1; myalgias 1, and pregnancy 2. Four patients had dose reductions: pleural effusion 3; myalgias 1. Four patients had dasatinib dose increased to 100mg: lack of CCyR at 6 months, 3; lack of MMR at 12 months, 1. Four patients are off study: no response 2, pneumonitis 1, and insurance 1. None of the patients have transformed or died.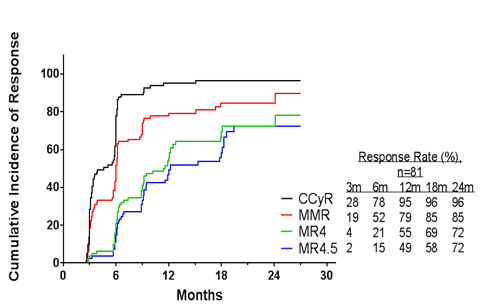 Conclusion
These updated results continue to support dasatinib 50mg daily as an effective and safe dose for early CML-CP.
Session topic: 8. Chronic myeloid leukemia - Clinical
Keyword(s): Chronic myeloid leukemia, Tyrosine kinase inhibitor