Abstract: PS1167
Type: Poster Presentation
Presentation during EHA24: On Saturday, June 15, 2019 from 17:30 - 19:00
Location: Poster area
Background
Continuous treatment with tyrosine kinase inhibitors (TKI) leads to long-term remission in most patients with chronic myeloid leukaemia (CML), but is costly and associated with significant side effects. Several clinical trials have studied the molecular relapse rate after treatment cessation, typically reporting relapse rates of about 50%, but prospective prediction of relapse for individual patients is not yet possible. The DESTINY trial (ClinicalTrials.gov number NCT01804985) differs from other studies in that TKI treatment is first de-escalated to 50% of the standard dose for 12 months prior to cessation. The trial reported that this strategy improves the fraction of patients with treatment free remission (Clark RE et al., EHA 2018; manuscript submitted).
Aims
To investigate whether BCR-ABL1 dynamics monitored during the dose de-escalation period provide a strong predictor of individual CML relapse occurrence after TKI cessation.
Methods
BCR-ABL1/ABL1 ratios were available for 173 of the 174 patients in DESTINY. We analysed and correlated the BCR-ABL1 dynamics during the dose reduction period with the final outcome, i.e. whether the patients showed a molecular relapse or not. We used a random-effects model to quantify the change in the BCR-ABL1/ABL1 ratio for each individual patient by estimating the random slope of the linear regression. Applying a logistic regression model, we further categorised the patients according to their individually determined slopes into groups of low and high relapse risk.
Results
We observed a strong positive correlation of the patient-specific response during the 12 months dose reduction period (i.e. the linear slope of BCR-ABL1/ABL1 ratios) with the occurrence of molecular relapse (Figure 1A). The majority of patients presented with slopes distributed around zero (i.e. moderate increase or decrease), among which only 23% finally relapse after treatment cessation. However, among the patients with a relatively large slope during dose reduction, almost all of them eventually relapse. By dichotomizing the patients according to their individual slopes, we find that patients with increased slopes (>0.04) have a 60.8-fold (95% CI: 14.4-548.4) increased chance for molecular relapse compared to patients with moderate slopes (Figure 1B).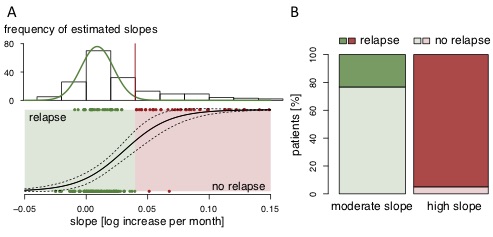 Conclusion
Our results demonstrate that individual patient response to TKI dose reduction (measured by BCR-ABL1/ABL1 ratio) is a promising strategy to prospectively identify a sub-cohort of patients who will almost certainly relapse after TKI cessation. Based on this information we recommend that those patients stay under continuous TKI treatment. We cannot comment on whether these patients would fare well if they remain on a de-escalated TKI dose, which we have previously shown is a valid treatment alternative (Fassoni A et al., Haematologica 2018) and associated with an improvement in side effects (Clark RE et al., Lancet Haematology 2017). Exclusion of those high-risk patients could increase the proportion of successfully stopped CML patients to about 77%.
Session topic: 7. Chronic myeloid leukemia - Biology & Translational Research
Keyword(s): Chronic myeloid leukemia, Dose intensity, Relapse, Tyrosine kinase inhibitor