Abstract: PS1146
Type: Poster Presentation
Presentation during EHA24: On Saturday, June 15, 2019 from 17:30 - 19:00
Location: Poster area
Background

Chronic lymphocytic leukemia (CLL) represents the most common leukemia in the Western world, accounting for nearly 40% of all adult leukemias. The disease is characterized by the progressive accumulation of phenotypically mature malignant B-lymphocytes, primarily in peripheral blood, bone marrow and lymph nodes. Genetic aberrations, both chromosomal abnormalities and mutations, play an important role in CLL, impacting prognosis and selection of treatment. The current gold standard method for copy number variation (CNV) detection is fluorescent in situ hybridization (FISH), a cost-effective method, but with the caveat of offering CNV information exclusively on regions interrogated by the FISH probes.
Aims

We hypothesized that low-coverage whole genome sequencing (sWGS) could be a good alternative to FISH for detection of CNVs. Moreover, the nature of sWGS could provide additional information on CNV affecting regions not interrogated by FISH probes.
Methods

We selected a cohort of 27 CLL cases with available FISH data for the four well known clinically relevant markers: del(11q), del(13q), del(17p) and trisomy 12. Some of these cases had additionally been characterized by other techniques (Karyotype, CGH+SNP array, IgHV). Samples were provided by the Biobank of the University of Navarra and were processed following SOP approved by the Ethical and Scientific Committee of the University. The sWGS libraries were built adapting a ChIP-seq protocol, and sequenced on two High Output v2 flow cells run in a NextSeq 500 sequencer (Illumina). The run was demultiplexed using BCL2FASTQ, Bowtie2 was used to align fastq files and resulting bam files were sorted on SAMTools creating index files too. Finally, we used CopywriteR R package to call CNVs.
Results

A median of 14.77M reads per sample were obtained and, of those, 89.87% were correctly aligned. We run the CopywriteR package using four different bin sizes (3Mbp, 1Mbp, 500kbp and 250kbp). The 250kbp window was finally selected for CNV calling upon detection of small CNV aberrations that were missed when using larger bin sizes. Indeed, the 250kbp window was comparable in size with that of FISH probes. We set up the upper threshold in 2.2 copies and the lower threshold in 1.8 copies, in order to emulate FISH cut-off values. We detected 31 CNVs in 18 patients. The level of concordance with FISH data was 98.14%. Only two inconsistent results were found, probably caused by low infiltration             (both cases fall near the FISH thresholds) or by the small size of the deletion. This issue may be solved with fine-tuning of thresholds or reducing bin size; this should be tested in a larger cohort. Of note, we detected 10 additional aberrations that had not been interrogated by FISH probes. Interestingly, a 13q deletion was called using sWGS, but missed by FISH. Detailed analysis of the discordance showed that the genomic location of the aberration was outside the minimal deleted region, which was the target of the FISH probe. This discordant result was further validated using KaryoNIM® Leukemia (NIMGenetics) CGH+SNP array (Figure 1).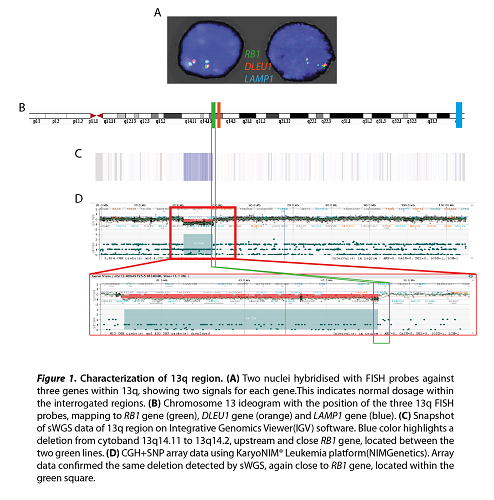 Conclusion

Low-coverage WGS is cost-effective method (cost is similar to FISH). The comparison between aberrations found by both methods showed a high concordance, whereas only sWGS is capable of providing additional information in regions not interrogated by FISH. In some instances, even in FISH-interrogated regions, sWGS could outperform FISH due to its more comprehensive coverage.
Session topic: 5. Chronic lymphocytic leukemia and related disorders - Biology & Translational Research
Keyword(s): Arrays, Chronic lymphocytic leukemia, FISH, Genomics