Abstract: PS1087
Type: Poster Presentation
Presentation during EHA24: On Saturday, June 15, 2019 from 17:30 - 19:00
Location: Poster area
Background

There are numerous chemotherapy protocols that have been used as 2nd line treatment in relapsed or refractory aggressive non-Hodgkin's lymphoma (NHL) / Hodgkin's lymphoma (HL).There is a lack of evidence about the best chemotherapy regimen in treatment of relapsed/refractory lymphoma.
Aims

To compare GEMOX regimen(gemcitabine, oxaliplatin) with ESHAP regimen(etoposide, methylprednisolone, cytarabine arbinoside, cisplatin) as 2nd line treatment for patients (pts) with relapsed /refractory HL and aggressive NHL.
Methods

This study was a prospective randomized study including pts with relapsed/refractory HL or aggressive NHL who were treated at Clinical Oncology Department, Cairo University, Egypt;between the peroid of July 2014 and March 2016.Eligible pts were relapsed/ refractory lymphoma after 1st line chemotherapy,with an age ranging from 18 to 65 years, and an Eastern Cooperative Oncology Group (ECOG) performance status(PS) 0-II. Exclusion criteria included ECOG PS III-IV, central nervous system involvement, significant cardiovascular disease,and serious concomitant medical condition.All pts were underwent an initial evaluation, including a detailed history,physical examination and laboratory investigations.Staging was done according to Ann Arbor staging system. Refractory disease was defined based on Lugano criteria for response assessment . The histologic diagnosis was documented by biopsy at relapse, Pts were randomly assigned to GEMOX or ESHAP regimen, both regimen were given every 21 days. GEMOX regimen consisted of gemcitabine (1200 mg/m2, IV, days 1 and 8) and oxaliplatin (120 mg/m2, IV, day 1). ESHAP regimen consisted of etoposide (40 mg/m2, IV, days 1 to 4), methylprednisolone (500 mg, IV, day 1), cytarabine (2000 mg/m2, IV, day 5) and cisplatin (25 mg/m2, 24 hour IV infusion, days 1 to 4).Pts were assessed for response with each treatment cycle clinically and assesed by imaging after 3 cycles. Adverse events were graded according to the common terminology criteria for adverse effects version 4.0.Full laboratory assesment was carried out before each chemotherapy cycle to assess for the hematological, renal and hepatic toxicity and to adjust doses of chemotherapy if necessary. Pts who achieved complete remission (CR) were referred for autologous stem cell transplant and those who achieved less than CR continued chemotherapy for 6 cycles. The primary end point was the response rate (RR),while the secondary end points were progression free survival (PFS) and chemotherapy toxicity. All statistics were done by SPSS software version 17. Survival analysis was done using the Kaplan-Meier method and compared by log-rank test for significance.P-value <0.05 was considered significant.
Results

The study included 41 pts, 21 of them received GEMOX and 20 received ESHAP. The RR did not differ significantly between the GEMOX and ESHAP arms (28.6% vs. 35%, P-value=0.793) as well as PFS (8.7 months vs. 6.6 months, P=0.711). By univariate analysis for the whole group, the RR differed significantly according to disease status at relapse, time to relapse,LDH, secondary age-adjusted IPI. Hematological toxicity was not statistically different between the two treatment arms. GEMOX was associated with significantly less vomiting of any grade (P=0.013). Acute renal toxicity of any grade was significantly lower in GEMOX compared to ESHAP (P=0.003). In terms of peripheral neuropathy, GEMOX was associated with significantly higher all grades (P=0.0001).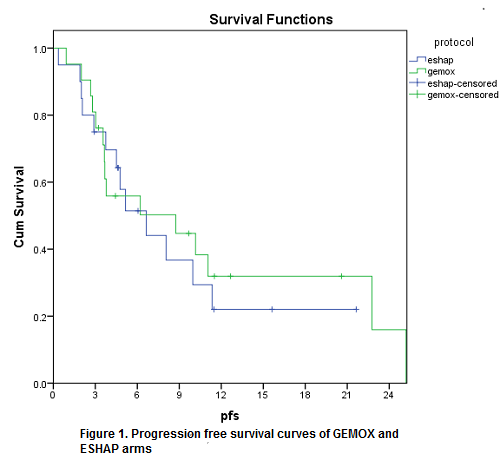 Conclusion
The current study results suggest that RR and PFS of GEMOX and ESHAP are comparable with different toxicity profile
Session topic: 19. Aggressive Non-Hodgkin lymphoma - Clinical
Keyword(s): Chemotherapy, Relapsed lymphoma