Abstract: PF800
Type: Poster Presentation
Presentation during EHA24: On Friday, June 14, 2019 from 17:30 - 19:00
Location: Poster area
Background

Cancer-associated thrombosis (CAT) accounts for about 20% of all cases of Venous Thromboembolism (VTE). Cancer patients are 4 – 7 folds more likely to have VTE compared to patients without cancer. The pathogenesis of CAT is a complex process as cancer itself is a heterogeneous disease. Tissue factor (TF) was proven to be highly expressed on the angiogenic endothelial wall.  Subsequent theories proposed that the cancer cells activate the coagulation cascade, as the oncogenes cause tumor transformation, which in turn causes the cancer tissues to be able to express different pro-coagulant proteins. The VTE risk factors can be divided into cancer-related, patient-related and therapy-related factors.  Chemotherapy, surgery, hormonal therapy, anti-angiogenic agents, immunomodulatory drugs, or transfusions, central venous catheters, and even hospitalization are reported to increase the VTE risk.  To combat thrombosis complications, heparins and/or oral anticoagulants are used in therapy for cancer patients but these drugs have limited use due to an increased risk of bleeding complications in cancer patient.
Aims

To investigate the effects of sulfated non-anticoagulant low molecular weight (S-NACH)on cancer-associated thrombosis-mediated by human pancreatic cancer cells. S-NACH lacks anti-thrombin binding and devoid of systemic anticoagulant effects on factor IIa and Xa in comparison to enoxaparin
Methods

Pancreatic cancer cell line (SUIT2) and human endothelial cells (HUVEC) were obtained from ATCC and maintained in RPMI medium/10% FBS and EBM2 medium/ 20%FBS, respectively. For the Thrombelastography (TEG) Assay, we used SUIT2 cells to test the efficiency of blood coagulation in the presence of S-NACH, and Enoxaparin at 1-10 μg. TEG measures clotting time, R, in minutes and clot strength, MA, in mm. Furthermore, we used human endothelial Cells (HUVEC), to test the release of TFPI-1 and 2 in the presence of S-NACH and Enoxaparin at different concentrations (1-10 μg). Additionally, we examined the in vivo effects of S-NACH on release kinetics of plasma TFPI-1 and 2.
Results

Human whole blood clot kinetics using TEG assay shows significantly decreased clotting time (R-value) and increased clot strength in blood from cancer patients or blood from healthy donors when adding pancreatic SUIT2 cells. The TEG assay demonstrated lack of effects of S-NACH or TFPI alone on clot kinetics in human but significant changes with enoxaparin at 10 μg. In contrast, S-NACH (1, 3 and 10 μg) in the presence of 0.01-0.1 ng TFPI-1 or 2 resulted in a dose-dependent suppression of clot strength and prolongation of clotting time. The introduction of TFPI had no effect on the MA values for the positive control, Enoxaparin (Figure 1).
In the TFPI release assay, the concentration of the TFPI released at 1hours and 3 hours increased as the concentration of S-NACH and enoxaparin increased from 1 μg to 10 μg, with greater release with S-NACH versus enoxaparin. In addition, we demonstrated in a previous study that, of S-NACH did not affect the activity of factor IIa and Xa in comparison to Enoxaparin.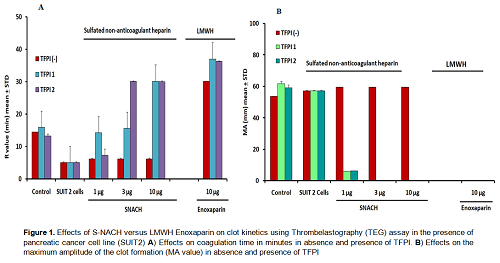 Conclusion

Our data indicated that S-NACH prevents cancer-associated thrombosis without any effects on hemostasis. S-NACH have no effect on homeostasis and work locally on in vivo on releasing vascular TFPI-1 and 2. S-NACH enhances the affinity of TFP-1 and TFPI-2 in suppressing and blocking cancer-associated thrombosis.
Session topic: 34. Thrombosis and vascular biology - Biology & Translational Research
Keyword(s): Thrombosis