Abstract: PF606
Type: Poster Presentation
Presentation during EHA24: On Friday, June 14, 2019 from 17:30 - 19:00
Location: Poster area
Background
We have previously reported that multiple myeloma (MM) patients referred with >1 month of prior therapy have worse outcomes compared to newly diagnosed patients on Total Therapy (TT) trials. We hypothesized that inferior results in previously drug-exposed patients relate to more resistant disease. This prompted us to explore a less dose intense regimen avoiding high dose melphalan (M) autologous stem cell transplant (ASCT) and allowing for more frequent dosing thus minimizing between-treatment periods. The aim is to prevent relapse during treatment free periods as a result of M 200mg/m2-ASCT as in a standard TT approach.
Aims
To assess OS and PFS with a dose dense approach in previously treated patients.
Methods
Patients who had undergone prior therapy for MM but were not transplanted were enrolled in TT6.  Induction comprised eight-drug combinations (M-VTD-PACE; melphalan, bortezomib, thalidomide, dexamethasone and four-day continuous infusions of cisplatin, doxorubicin, cyclophosphamide, etoposide). Conditioning prior to tandem ASCT was fractionated melphalan (20mg/m2x4) supplemented by VRD-PACE (R=lenalidomide). There were two inter-ASCT cycles with M (5mg/m2x4)-VTD-PACE. Maintenance therapy was 3 yrs VRD.
Results
TT6 enrolled 116 patients with prior therapy. The median age was 61 yrs (range: 36-75); 30% of patients were >65 yrs. The median follow-up was 80 mths (range: 17-114).   Three-year estimate of OS and PFS for the whole cohort was 76% (range: 69-84) and 60% (range:51-69%). Ninety-seven of the 116 patients had gene array analyses and these were divided into HR and low risk (LR) based on the GEP70 score. Consistent with previous findings LR patients fared consistently better than their HR counterparts: 3 yr-OS 88% for LR patients (range 80-95%) vs 32% for HR patients, (p<0.001) and 3 yr-PFS 68% for LR patients (range: 57-78%) vs. 18% for HR patients, p< 0.0001) with superior 3 yr CR duration (62 vs 43%, p=0.02). Next, we examined the impact of the duration of prior therapy. Using log-rank analysis an optimal cutpoint was identified and patients were classified as having received ≤6 mths of prior therapy (n=75) versus >6 mths of prior therapy (n=41). Comparison of baseline characteristics showed that patients with >6 mths therapy had more adverse features including a platelet count <150,000/ml (24 vs 8%, p=0.017), metaphase cytogenetic abnormalities (54 vs 32%, p=0.023) and >3 FL on CT-PET (40 vs 22%, p=.044).   Both groups had similar (s)CR rates (55% vs 50%, p=0.31). However, patients with >6 mths therapy had significantly worse outcome in terms of 3 yr-OS (65vs 83%, p=0.001) and -PFS (38 vs 72%, p=0.0002). Fifty percent of patients of HR patients with <6 mths of prior therapy remained in (s)CR at 3 years, as compared to none of those with HR MM >6 mths of pretreatment. In multivariate analysis GEP70 and >6 mths prior therapy imparted worse outcome. The hazard ratios for OS were 4.6 (range: 1.9-11.2), p=0.0007 and 3.4 (range: 1.6-7.3, p=0.0015), respectively. Similarly, the ratios for PFS were 7.3 (range: 3.8-14.1-11.2), p<0.0001 and 3.2 (range: 1.6-6.2, p=0.006).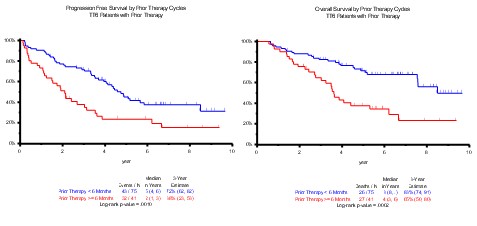 Conclusion
Dominant determinants of outcome were presence of HR MM and duration of prior therapy. This results suggest that patients should be referred early for M-based ASCT to obtain the best results.  Some caution is required since this study did not employ high M-based ASCT (M-200mg/m2) nor was it designed to answer whether these results pertain to patients treated to progression with a standard regimen such as VRD followed by delayed transplant.
Session topic: 14. Myeloma and other monoclonal gammopathies - Clinical
Keyword(s): Myeloma, Survival, Transplant