Abstract: PF498
Type: Poster Presentation
Presentation during EHA24: On Friday, June 14, 2019 from 17:30 - 19:00
Location: Poster area
Background
Iron deficiency anemia (IDA) is one of the leading causes of anemia world over. Oral iron therapy is the main stay of treatment of IDA. Current guidelines recommend a single tablet containing 60mg of elemental iron to be taken 2-3 times a day. Recent studies in iron-depleted young women have challenged this approach by demonstrating increased plasma hepcidin (PHep) levels on consecutive days of oral iron. An alternate day or weekly dosing led to a lesser impact on hepcidin and consequently more fractional absorption of iron. We hypothesized that alternate day iron dosing would be more effective than daily dosing in the treatment of IDA.
Aims

1. To assess the efficacy of alternate versus daily oral iron therapy in patients with IDA. 2. To assess the side effects of alternate versus daily oral iron therapy.
Methods

This was a phase 2, randomized, controlled, open-label trial conducted at a single center from 2017-2018. Patients with a history of bleeding, Hemoglobin (Hb) <6gm/dl and pregnant females were excluded from the study. A total of 59 patients were randomized, 31 patients assigned to daily (BD) arm and 28 patients to alternate day (AD) arm. Patients in BD arm were given tab. ferrous sulfate 200mg (60mg elemental iron) twice a day while patients in AD arm were given tab. ferrous sulfate 200mg two tablets on alternate days. Compliance was ensured by weekly phone calls. The complete blood count (CBC) including reticulocyte count, reticulocyte hemoglobin content, PHep were done at baseline before randomization followed by end of week 1 of treatment. CBC was repeated at end of weeks 3 and 6. The primary endpoint was 2gm/dl rise in Hb at end of 3 weeks. Side effects were also recorded in both the treatment arms.
Results

Baseline characteristics were comparable in both arms. The two arms were matched for age, gender, severity of anemia, Hb, PHep and iron profile. At the end of week 1 of therapy, there was significantly more rise in the reticulocyte hemoglobin content (p=0.004) in the BD arm compared to AD arm. There was no significant change in the PHep levels at week 1 in both arms (p=0.9). There was a significant rise in the Hb in the BD arm compared to the AD arm, at the end of 3 weeks (1.6± 1.2 & 1.1±0.9 g/dl, p=0.02) and 6 weeks (2.9±1.7 & 2.0±1.3 g/dl, p=0.03). Stratifying by the severity of anemia, this difference was not significantly different in patients with mild anemia (p=0.8) but approached significance in patients with moderate and severe anemia (p=0.09). The primary endpoint of 2gm/dl Hb rise was met in significantly more patients in the BD arm compared to the AD arm at 3 weeks' time point (37.9% vs. 8.3%, p=0.01), but was not significant at 6 weeks' time point (72.0% vs. 52.2%, p=0.1). The side-effect profile was not significantly different in the two arms.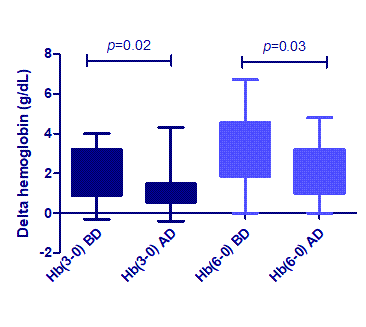 Conclusion

The current paradigm in the treatment of IDA of giving 2-3 tablets of 60mg elemental iron daily was challenged before this study. This is the first study to the best of our knowledge testing the impact of daily versus alternate-day oral iron therapy in the treatment of all severity of IDA. In moderate to severe IDA, daily iron therapy still holds importance in terms of rapidity in the resolution of anemia and remains better than alternate day therapy. In mild IDA, alternate day iron therapy may be of value and could be the preferred choice specifically in preventive strategies or in iron-depleted patients. Hepcidin kinetics may be less important in determining iron absorption in moderate-severe IDA patients as compared to mild IDA or iron depleted patients.
Session topic: 29. Iron metabolism, deficiency and overload
Keyword(s): Hepcidin, Iron, Iron deficiency anemia, Treatment