Abstract: PF387
Type: Poster Presentation
Presentation during EHA24: On Friday, June 14, 2019 from 17:30 - 19:00
Location: Poster area
Background
Ibrutinib is a first-in-class oral inhibitor of Bruton's tyrosine kinase approved for the treatment of adult patients (pts) with CLL. Single-agent ibrutinib improved progression-free survival (PFS) and overall survival (OS) vs chlorambucil in treatment-naïve pts (RESONATE-2™; NCT01722487; Burger et al. N Engl J Med. 2015;373:2425-2437) and vs ofatumumab in relapsed/refractory pts (RESONATE™; NCT01578707; Byrd et al. N Engl J Med. 2014;371:213-223) in phase 3 CLL registration trials. The FIRE study examines real-world efficacy and safety of ibrutinib in pts with CLL in France. The first interim analysis (IA) was presented at the 38th Congress of the Société Française d'Hématologie (March 28-30, 2018, Paris, France).
Aims
To assess ibrutinib outcomes in real-world pts with CLL in France.
Methods

This retrospective (ret) and prospective (pro), noninterventional, multicenter study enrolled pts aged ≥18 years with a confirmed diagnosis of CLL/small lymphocytic leukemia (treatment naïve [TN] with del17p and/or TP53 mutation, or R/R) who initiated ibrutinib on or after November 21, 2014 (date of commercialization). Pts who initiated ibrutinib after this date but before the study initiation date, May 2016, were retrospectively included. Pts were treated according to usual practice with up to 5 years of follow-up. The primary efficacy end point was PFS; secondary end points included OS and response. This second IA reports baseline characteristics, ibrutinib treatment exposure, efficacy, and safety.
Results
394 (194 ret/200 pro) pts with CLL received ibrutinib and were included in the IA efficacy population. 15.0% were TN, 36.3% had 1 prior line of therapy, and 48.7% had ≥2 prior lines. Median age was 72.0 years; 66.2% were male. Median time from diagnosis to ibrutinib initiation was 7.0 years.
With a median follow-up of 29.6/15.2 months (ret/pro), median PFS was not reached (NR) in either cohort (Figure). For all pts in the IA efficacy population, the PFS rate was 88.4% at 12 months and 76.2% at 24 months; PFS was prolonged in TN pts (median PFS: overall NR) or those receiving 1 prior line (NR) vs ≥2 prior lines (37.7 months). Median OS was NR in the IA efficacy population (with a median follow-up of 26.2 months) and median time to best response was 5.7 months (range 5.0-6.3; median follow-up 36.0 months).
In the IA safety population (receiving ≥1 dose of ibrutinib: N=400), 91.5% of pts received ibrutinib 420 mg at initiation. Median ibrutinib exposure was 19.7 months. 32.5% of pts required ≥1 ibrutinib dose modification and 38.0% had ≥1 temporary discontinuation. Concomitant antithrombotic treatment was received by 62/338 (18.3%) pts. At least 1 treatment-emergent adverse event (TEAE) of any grade was reported in 97.5% of pts (related to ibrutinib in 90.0% of pts). Serious TEAEs of any grade were reported in 46.8% of pts (related to ibrutinib in 18.8% of pts). The most common TEAEs of interest of any grade were infection (53%), diarrhea (26.5%), arthralgia (13.8%), hypertension (10.8%), myalgia (8%), atrial fibrillation (6.0%), and rash (5.8%). At least 1 bleeding TEAE was reported in 40.3% of pts overall and 3.5% of pts experienced ≥1 major bleeding TEAE.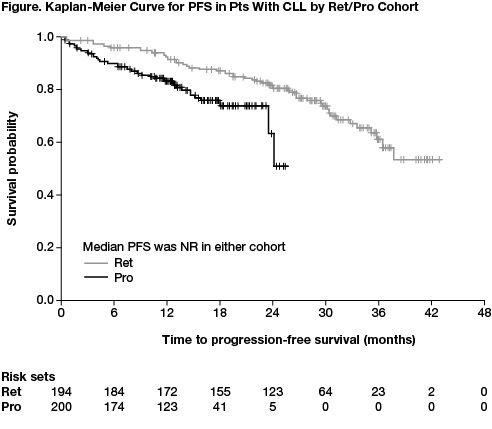 Conclusion
FIRE is the first real-world study of ibrutinib use in clinical practice in France. The first results reflect ibrutinib efficacy and safety in CLL clinical trials. There were no new safety signals. Longer follow-up will help to confirm these results.
Session topic: 6. Chronic lymphocytic leukemia and related disorders - Clinical
Keyword(s): Chronic lymphocytic leukemia, Ibrutinib, Safety, Survival