Abstract: PF339
Type: Poster Presentation
Presentation during EHA24: On Friday, June 14, 2019 from 17:30 - 19:00
Location: Poster area
Background
To date there are no head-to-head randomized controlled trials comparing romiplostim (ROM) with eltrombopag (ELT) for the management of patients with primary immune thrombocytopenia (ITP). Having different routes of administration, which is the best choice of a thrombopoietin receptor agonist (TPO-RA) for an individual patient is not clear.
Aims

To analyze biological and clinical factors leading physicians and/or patients to the use of a particular TPO-RA.
Methods

We collected retrospectively the clinical data of 146 adult primary ITP patients who had initiated treatment with ROM or ELT between January 2012 and December 2014. Data on patient characteristics were collected from medical records in a multicenter study from 19 secondary and tertiary Spanish hospitals.
Results

A minority of patients (n=25) started TPO-RA as short-term therapy with an intention to treat of <2 months (14 ROM, 11 ELT). The most frequent single indication for a transient use of TPO-RA was to increase platelet counts before a scheduled surgery; all patients (n=6) received ROM in this scenario. No differences were observed between ROM and ELT in terms of sex, baseline platelet counts, time to achieve platelets >50x109/l,  nor maximal platelet counts after short-time TPO-RA treatment. The majority of patients (n=121, median age 63 years; range 19-96 years; 58.7% female) initiated TPO-RA as long term treatment (ROM 54; ELT 67). Sixty-eight percent of the patients met criteria for chronic, 16% for newly diagnosed and 16% for persistent ITP. There was a trend towards a preferential use of ELT in patients ≥65years (52.2% vs. 35.2% for ROM, P=0.061). Neither gender, liver disease, history of previous neoplasia or vascular events, phase of the disease, or responses to earlier lines of therapy associated with the choice of TPO-RA. We assessed the bleeding severity both at diagnosis and before initiation of TPO-RA therapy according to the Page score (Br J Haematol. 2007;138:245-8). In univariate analysis, ROM was preferentially given to patients presenting with bleeding symptoms at diagnosis (66.7% of those receiving ROM) compared to 41.8% of bleeders among those receiving ELT (P=0.006). The cumulative bleeding scale at diagnosis was also higher in those patients elected for treatment with ROM than ELT (median bleeding score at diagnosis 2 vs. 0, p=0.003). At the time when TPO-RA was initiated, the risk of hemorrhage (platelet counts 18x109/l vs. 25 x109/l for ROM and ELT, respectively; P=0.014), and bleeding manifestations (bleeding score of 1 and 0 for ROM and ELT, respectively; P=0.037) were also correlated with the selection of TPO-RA. Additionally, six months before the start of TPO-RA, the requirement for hospital care (emergency treatment or hospital admission) was higher in patients that were subsequently treated with ROM than those elected for ELT (55.6% vs. 31.8%, P=0.009). In multivariate analysis with logistic regression, platelet counts before TPO-RA and the need for hospital care 6 months before TPO-RA correlated with the selection of TPO-RA (Table 1).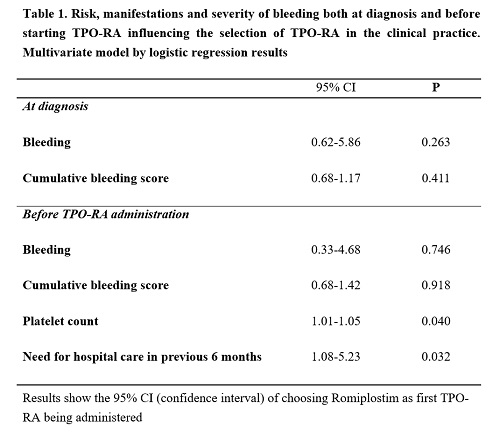 Conclusion
Our study shows a trend towards the use of ELT in older patients, but no influence of other patient characteristics, or previous therapies on the choice of TPO-RA. While previous indirect data comparing ROM and ELT suggest that there is no substantial difference in the efficacy of these agents, real world data from this analysis indicates that the risk and severity of bleeding before starting TPO-RA influences the selection of TPO-RA in the clinical practice.
Session topic: 33. Bleeding disorders (congenital and acquired)
Keyword(s): Bleeding, ITP, TPO