Abstract: PF291
Type: Poster Presentation
Presentation during EHA24: On Friday, June 14, 2019 from 17:30 - 19:00
Location: Poster area
Background
IDH1 mutations (mIDH1) occur in 5-12% of patients with high-risk MDS and AML.  IDH mutations sensitize AML cells to BCL2 inhibition, and pre-clinical evidence demonstrates the synergistic activity of targeted mIDH-inhibition with BCL2 inhibition in mIDH PDX models.  Ivosidenib (IVO) is an oral potent targeted inhibitor approved for relapsed/refractory mIDH1 AML.  Venetoclax (VEN) is an oral targeted BCL2 inhibitor approved in combination for patients with newly diagnosed AML, ineligible for intensive chemotherapy.  
Aims
We report the first clinical results from an ongoing open label Phase 1b/2 study evaluating the safety, tolerability, pharmacokinetic profiles, and efficacy of IVO and VEN in combination for patients with mIDH1 myeloid malignancy (NCT03471260).    
Methods
Eligible patients include adults > 18 years with IDH1-R132 mutated high-risk MDS or AML.  Prior therapy with ivosidenib or venetoclax was exclusionary; receipt of other targeted mutant IDH1 inhibitors was allowed. 
Patients receive VEN on days 1-14 of each treatment cycle.  IVO is given continuously daily starting on cycle 1 day 15.  Each cycle is 28 days.  Patients in the Phase 1b study portion are enrolled of cohorts of 6; we report results from patients treated on dose level 0 (VEN 400 mg and IVO 500 mg) and level +1 (VEN 800mg and IVO 500 mg). 
Results
As of Feb 26 2019, 11 IDH1-mutated patients have been enrolled on study; 10 AML and 1 MDS patient with excess blasts refractory to hypomethylating agent therapy.  The study opened to enrollment in March 2018; median follow-up time is 6 months.  Median patient age is 65 yrs (range 37-83 yrs), and 6 patients are male.  Patients had received a median of 2 prior therapies (range 0-5); two patients were treatment naïve.   Additional clinicopathologic details are provided in Table 1.
Grade > 3 adverse events (AEs) occurring on study regardless of attribution included lung infection (n=7), febrile neutropenia (n=3), other infection (n=2), differentiation syndrome (n=1), stroke (n=1), TLS (n=1), leukocytosis (n=1) and acute kidney injury (n=1).  The only Grade 1-2 AE occurring in > 2 patients was diarrhea (n=3).  Grade 2 QTc prolongation occurred in one patient.
One patient was enrolled in Feb 2019 and remains too early for response assessment, and one refractory AML patient received ten VEN doses prior to death from complications of infection, and was inevaluable for efficacy of the combination.  Of 9 evaluable patients, responses include CR in 44% (n=4), CRi in 33% (n=3), and no response/progressive disease in 22% (n=2).  One responding CRi patient progressed with extramedullary disease, and discontinued study treatment for cytarabine-based therapy.  All other responders (n=6) remain on study with a median of six cycles received to date (range 1-9, all ongoing).  Of the seven patients achieving CR/CRi, 3 patients, all in CR, obtained negative measurable residual disease (MRD) by multiparameter flow cytometry (0.01% sensitivity).  Analysis for IDH mutational clearance at remission, as well as BCL2 family expression and BH3 profiling for all patients is ongoing.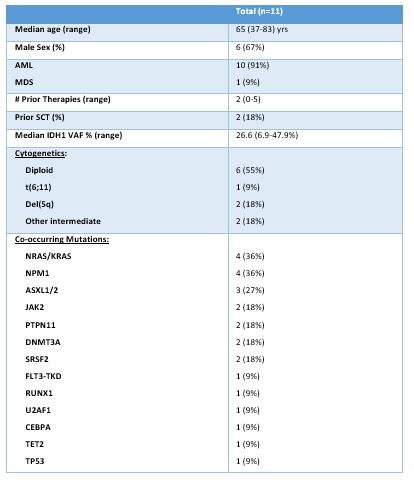 Conclusion
IVO + VEN is a well-tolerated regimen with a safety profile consistent with single-agent IVO and VEN.  The preliminary response rate of this combination appears favorable with a CR rate of 44% and CR/CRi rate of 78% in evaluable patients, with 43% of responding patients attaining MRD negativity by flow cytometry.  This study continues to enroll and a future cohort will evaluate the "triplet" of IVO + VEN with azacitidine.     
Session topic: 4. Acute myeloid leukemia - Clinical
Keyword(s): Acute myeloid leukemia, BCL2, Ivosidenib, Targeted therapy