Abstract: PF284
Type: Poster Presentation
Presentation during EHA24: On Friday, June 14, 2019 from 17:30 - 19:00
Location: Poster area
Background

The deleterious effects of occupational pesticide exposure (OPE) in human health are a major public health concern. Several studies showed the association between OPE and lymphohematopoietic malignancies. Association between acute myeloid leukemias (AML) and OPE is not clearly demonstrated in the published studies due to heterogeneous cohorts without control groups, in which AML are pooled with other leukemias (chronic myeloid leukemia and/or chronic lymphoid leukemia).
Aims
Our objective was to realize a stringent meta-analysis of the published case-control studies on the impact of OPE on the risk of AML in adults.
Methods
Extensive keywords strategy was performed in MEDLINE and Cochrane databases (from 1946 to 2018). We included studies meeting the following criteria: (i) case-control design; (ii) description of the general population, not restricted to one occupation; (iii) AML only; (iv) controls without cancer history. All studies were independently screened and reviewed by two authors. Design, population characteristics, adjusted odds ratio (OR) and number of exposed AML patients and controls were extracted from each study. The quality of studies was assessed with Newcastle-Ottawa scale (NOS). ORs with corresponding 95% confidence intervals (CI) were calculated using random effect models. Analyses were performed on R software using "metafor" package.
Results

Among the 5080 extracted publications, 12 studies were included in the meta-analysis. Main exlusion criteria were irrelevant references (n=4878), absence of control cohort (n=57), analysis of pooled various leukemias (n=37), missing data concerning pesticide exposure (n=26). References were published between 1986 and 2018. Inclusions periods were heterogeneous and ranged between 1976 and 2010. Median NOS was 7 (range: 3-8). Four (33%) studies reported adjusted OR while other described number of exposed AML-patients and controls. Finally, 2981 AML patients and 248705 control subjects were analyzed. Mean age at inclusion ranged from 46 to 56 years (not reported in four studies). All pesticides exposures were occupational and assessed through interviews of self-administered questionnaires. Overall analysis showed a significant adverse association between OPE and AML (OR=1.58; 95% CI, 1.12-2.22, Figure 1). Studies were heterogeneous (p<10e-3, percentage of total variability due to heterogeneity (I²)=79%). Sensitivity analysis was performed by sequentially excluding one study at a time which did not affect OR, suggesting that OR was not driven by single study effect. Absence of publication bias in our meta-analysis was shown with Funnel plot's symmetry and Egger's-test. Sequential addition of studies from the first published to the last showed that significant association was found after cumulating 8 studies from 1986 to 2010 (OR=1.64; 95% CI, 1.11-2.41). Stratified analysis showed that the association was stronger in: (i) Asian population (OR=1.88; 95% CI, 1.23-2.88); (ii) studies with high NOS quality score (OR=1.80; 95% CI, 1.17-2.78); patients exposed to insecticides (OR=1.45; 95% CI, 1.16-1.81).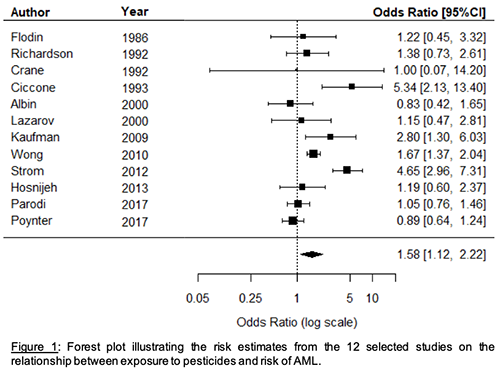 Conclusion
Our meta-analysis identified an adverse association between OPE and AML, even if: (i) none of the studies reported quantification of pesticide exposure; (ii) most of the studies reported unadjusted results, thus association could be partly influenced by other factors. Further sudies will have to identify the most dangerous pesticides, alone or in association (cocktail effect) and their critical exposure level.
Session topic: 4. Acute myeloid leukemia - Clinical
Keyword(s): Acute myeloid leukemia, Meta-analysis, Risk factor, Secondary