Abstract: PF275
Type: Poster Presentation
Presentation during EHA24: On Friday, June 14, 2019 from 17:30 - 19:00
Location: Poster area
Background
Acute myeloid leukemia (AML) is a series of hematologic malignancies with high morbidity and mortality. It is characterized by impaired differentiation, excessive proliferation, and apoptosis escape. N-acetyltransferase 10 (NAT10) is a transcriptional activator of telomerase reverse transcriptase (hTERT)[1]. It has acyltransferase domain and participates in microtubule acetylation, rRNA modification, DNA damage response, and cytokinesis[2-5]. NAT10 was upregulated in various kinds of tumors such as hepatocellular carcinoma, colorectal cancer, ovarian cancer and melanoma[6-9]. NAT10 upregulation is associated with poor prognosis. This study investigated NAT10 expression in AML patients and its correlation with clinical characteristics, chemotherapy response and prognosis. 
Aims
N-acetyltransferase 10 (NAT10) is considered as an oncogene in many tumors. This study investigated the NAT10 expression in Chinese acute myeloid leukemia patients and evaluated the predictive significance of NAT10 with a single-center retrospective study. 
Methods
We collected bone marrow samples of 48 newly diagnosed acute myeloid leukemia patients and 20 benign controls in our center. NAT10 mRNA expression levels were detected by Real-time qPCR. Clinical data was obtained from inpatient medical records. 
Results
AML patients had higher NAT10 expression level than the normal controls (P<0.01). NPM1-mutant patients had higher NAT10 expression level than NPM1-wt patients. NAT10 expression level was higher in non-remission group than that of overall remission group (P<0.05). High NAT10 expression indicated a poor progress free survival and overall survival.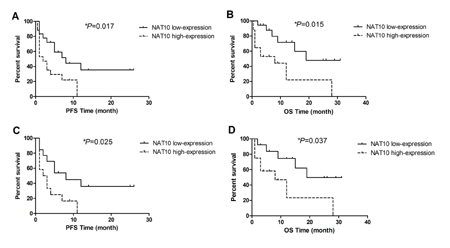 Conclusion
The results support NAT10 as a potential prognostic and therapeutic biomarker for acute myeloid leukemia.
Session topic: 4. Acute myeloid leukemia - Clinical
Keyword(s): Acute myeloid leukemia, Prognosis