Abstract: PF184
Type: Poster Presentation
Presentation during EHA24: On Friday, June 14, 2019 from 17:30 - 19:00
Location: Poster area
Background
Complete remission (CR) has been induced by multiagent remission induction therapies in the majority of patients with acute lymphoblastic leukemia (ALL). However, prognosis for adult patients with ALL has not been satisfactory due to a high rate of relapse, and the feasibility of post-remission consolidation therapy has been reported. Most treatment protocols include post-remission consolidation chemotherapy, however, it remains to be clarified whether consolidation is beneficial especially in patients who is considered to receive allogeneic hematopoietic stem cell transplantation (allo-HCT).
Aims
We retrospectively analyzed importance of consolidation chemotherapy in patients with ALL.
Methods
Clinical data for 312 patients aged more than 15 years who diagnosed as having ALL between 2007 and 2017 were collected from 21 centers in Hokkaido, Japan. Patients with lymphoblastic lymphoma and Burkitt leukemia, and patients who did not achieve CR by first induction remission chemotherapy were excluded from this study.
Results
The median age of the patients was 55 years (range: 15-84 years). Sixty-three patients were AYA (15-35 years), 163 were adult (36-65 years) and 86 were elderly patients (66- years). BCR-ABL was positive in 158 patients. After a first remission induction therapy, 192 of 216 evaluable patients achieved cytogenetic CR, and 74 of 121 evaluable patients achieved molecular CR.
Consolidation chemotherapies were administered for 264 of the patients. In the 49 patients who did not receive consolidation, 37 patients were BCR-ABL positive and 12 patients were BCR-ABL negative. Older age, poor performance status and BCR-ABL positivity were associated with not receiving consolidation.
 At the median follow-up of 1092 days (54-3914 days), overall survival (OS) and progression-free survival (PFS) were significantly superior in patients who received at least one course of consolidation therapy (P<0.001, Figure). However, in the patients with BCR-ABL who received tyrosine kinase inhibitor (TKI) as maintenance therapy, consolidation chemotherapy was not associated with OS (P=0.19). Among the patients who did not receive allo-HCT at CR1, larger number of consolidation chemotherapy was associated with superior survival. Among patients who received allo-HCT at CR1, the number of consolidation chemotherapy was not associated with OS (P=0.825).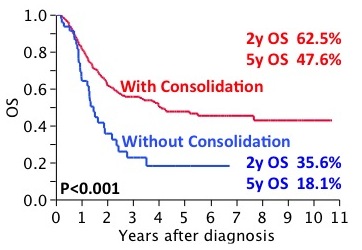 Conclusion
Consolidation chemotherapy was associated with better survival in patients with ALL. However, in patients with BCR-ABL or in patients considered allo-SCT, consolidation chemotherapy was not associated with better survival. We need to consider maintenance TKI therapy without consolidation for BCR-ABL positive patients and early allo-SCT for candidates of transplantation. 
Session topic: 2. Acute lymphoblastic leukemia - Clinical
Keyword(s): Acute lymphoblastic leukemia, Consolidation, Stem cell transplant