Abstract: PF728
Type: Poster Presentation
Presentation during EHA23: On Friday, June 15, 2018 from 17:30 - 19:00
Location: Poster area
Background
Allogeneic hematopoietic cell transplantation remains the only known curative approach for patients with high-risk leukemia; however, access is limited by donor availability. Umbilical cord blood (CB) has emerged as an important source of donor stem cells, particularly due to a decreased risk of graft-versus-host disease (GVHD) and potential improvement in graft versus leukemia effect. However, the low number of CD34+ cells in CB grafts can lead to delayed hematopoietic recovery, resulting in increased risk of morbidity and mortality post-transplant.
Aims
With the goal of enhancing the kinetics of hematopoietic recovery and improving transplant outcomes, we developed methods to ex-vivo expand CB-derived hematopoietic stem/progenitor cells (HSPC) using an engineered Notch ligand to increase the number of rapidly repopulating HSPC for clinical applications. The final expanded product (NLA101) is a cryopreserved, non-HLA matched product for use as a T-cell depleted, universal donor graft source.
Methods
Between 2010 and 2012, 15 patients with hematologic malignancies were enrolled in a single center, Phase 2 trial to assess safety and feasibility of infusing NLA101 to augment myeloablative CB transplant (CBT). All patients received conditioning of fludarabine 75 mg/m2; cyclophosphamide 120 mg/kg; and 13.2 Gy TBI. On transplant day, the unmanipulated CB unit(s) was infused first followed 4 hours later by NLA101. GVHD prophylaxis consisted of Cyclosporine/MMF. Hematopoietic recovery was analyzed using cumulative incidence (CI) rates to accommodate competing risks and was compared to a concurrent control cohort of 50 patients enrolled on a standard of care protocol who were treated identically. No significant differences between the two cohorts were found with respect to age, sex, weight, disease, and MRD status. Disease-free survival (DFS) and overall survival (OS) were analyzed using Kaplan-Meier estimates. We herein report long-term follow-up data from this study.
Results
Fifteen patients, median age 21 years (range 5-45), being treated for ALL (n=8), AML (n=6) and MDS (n=1) were enrolled and included in this analysis. The median CD34+ and TNC cell doses of NLA101 were 5.3 (range 3.1-11.6) x106 cells/kg and 5.8 (range 2.2-10.9) x107 cells/kg, respectively. Median follow-up for this study is now 6.5 years (range 5.6-7.4). As reported previously, time to neutrophil and platelet recovery was significantly improved over the control. CI at day 100 of neutrophil recovery was 100% vs. 94% (p=0.005), with a median time of 19 days (range 9-31) vs 25 days (range 14-45) in the control. CI at day 100 of platelet recovery was 93% vs 74% (p=0.02), with a median time of 35 days (range 21 to 86) vs 48 days (range 24-158) in the control (Figure 1). No patients experienced transplant related mortality (TRM) or severe grade 3-4 acute GVHD. Two of the 15 patients (13%) relapsed post-transplant and subsequently died. Of the 13 evaluable patients, 9 patients (69%) were off immunosuppression therapy at 2 years post-CBT. DFS and OS remained excellent at 5 years post-CBT at 86%.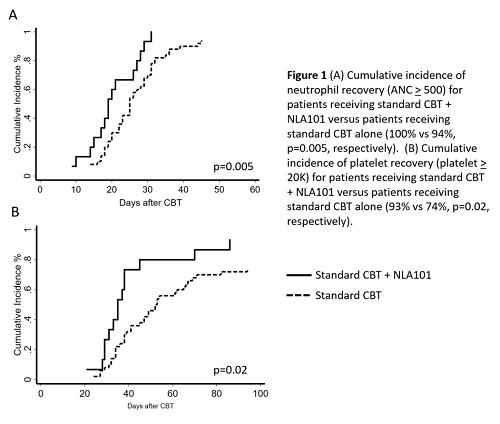 Conclusion
These results demonstrate that infusion of NLA101 to augment myeloablative CBT was safe and led to faster neutrophil and platelet recovery, but more importantly showed excellent long-term outcomes of survival, with no TRM or severe grade 3-4 acute GVHD. The non-HLA matched NLA101 can be infused to enhance the kinetics of hematopoietic recovery, resulting in reduction of early transplant related mortality.
Session topic: 23. Stem cell transplantation - Clinical