Abstract: PF628
Type: Poster Presentation
Presentation during EHA23: On Friday, June 15, 2018 from 17:30 - 19:00
Location: Poster area
Background

Ruxolitinib is a Janus kinase (JAK) 1 and 2 inhibitor approved for the treatment of patients with hydroxyurea-resistant/intolerant polycythemia vera (PV). In randomized controlled trials, ruxolitinib proved superior to best available therapy (BAT) in achieving hematocrit control without phlebotomy and reducing symptoms. However, comparison of overall survival (OS) and rate of thrombosis has been complicated due to a high degree of patient crossover from BAT to ruxolitinib in these trials.
Aims
To compare OS and thrombosis for ruxolitinib versus real-world BAT in patients with hydroxyurea (HU) resistant/intolerant PV.
Methods

Propensity score matching (PSM) was conducted using individual patient data (IPD) for patients treated in the ruxolitinib arm from the Phase III RESPONSE trial, and IPD for real-world patients treated with BAT from the Grupo Español de Enfermedades Mieloproliferativas Crónicas Filadelfia Negativas (GEMFIN) registry. The distribution of therapies for patients in the matched real-world BAT group were as follows: hydroxyurea (44%), busulfan (10%), radioactive phosphorus (2%), interferon (6%), anagrelide (12%), other therapy (11%) or no cytoreductive therapy (26%) (Some patients in the real-world BAT group were treated with multiple therapies). Eligible patients had resistance or intolerance to HU according to the modified European Leukemia Net criteria (Barosi G, et al. Br J Haematol 2010). Covariates selected for calculating propensity scores (PS) included age, sex, history of thrombosis at time of resistance/intolerance, cytopenia at the lowest HU dose and JAK2 mutational status. PSM was performed using caliper matching with a caliper width of 20% of the standard deviation of the logit-transformed PS, using sampling without replacement. Hazard ratios (HRs) were estimated from Cox proportional hazards models.
Results
Prior to performing PSM, there were statistically significant differences between ruxolitinib (n=110) and real-world BAT (n=191) in terms of age, sex, and cytopenia at the lowest HU dose or JAK2 mutational status. Before PSM, patients treated with ruxolitinib had significantly longer OS (HR=0.27 [0.12–0.62]) and a lower risk of thrombosis (HR=0.18 [0.05–0.61]) than patients treated with real-world BAT. The matched ruxolitinib and BAT cohorts formed after PSM (n=89 and 92 in each cohort for OS and thrombosis, respectively) were balanced for all covariates included in calculating PS. After PSM, ruxolitinib maintained a significantly prolonged OS (HR=0.28 [0.11–0.72]) and a lower risk of thrombosis (HR=0.21 [0.06–0.76]) compared with real-world BAT (Figure 1).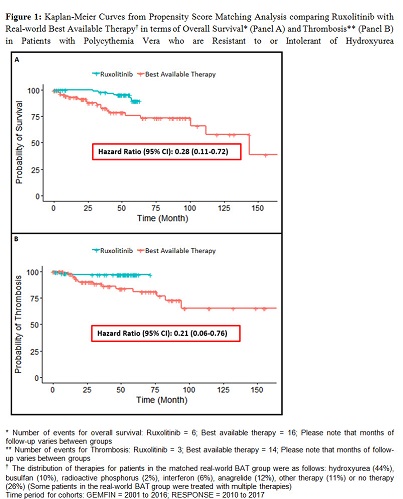 Conclusion
PSM analysis showed that patients resistant/intolerant to HU and treated with ruxolitinib in the RESPONSE trial had a significantly reduced risk of thrombosis and mortality compared to those with matched characteristics receiving BAT in the GEMFIN registry. Future studies are needed to validate these findings, and also assess comparative efficacy for other outcomes such as AML/MF/MDS. However, our study further supports the use of ruxolitinib in patients with resistance/intolerance to HU.
Session topic: 16. Myeloproliferative neoplasms - Clinical